Remarketing
The difference between retargeting and remarketing
Remarketing and retargeting are two separate things and too often confused. Although they have the same vocation: retargeting a visitor It is through the collection of consent (Optin) that they are distinguished.
Retargeting
Retargeting - or retargeting - is the process of bringing back to your site visitors for whom you have obtained an opt-in point of contact (optin) to communicate with them. (a newsletter subscription, a telephone number, etc.)..
Remarketing
Despite the few letters that differentiate it from retargeting, remarketing offers a much larger retargeting panel. Indeed, it allows any brand to retarget Internet users who have visited your site, including those for whom you do not have a direct point of contact - thanks to the installation of a tracking pixel or a cookie. We generally find display remarketing campaigns, email remarketing campaigns, sponsored links (Google Remarketing), social networks, native advertising... Adrenalead has recently completed the list with its Remarketing offer with Web Push Notifications !
How to have a good remarketing strategy?
The success of a good remarketing campaign depends on a good strategy! Are you sure yours is well optimized? 
Are you in control of your marketing pressure?

Can you reach your entire audience?

Do you know where your message is being broadcast?

Do you control your brand safety?

Do you really know who you're spreading your message to?

Aren't you suffering from advertising fraud?
Indeed, although you manage to expand your audience and achieve conversions, in most cases, a few shadows remain... We have just seen that, very often, remarketing methods offer very little control to advertisers. Worse still, they can harm your brand and deteriorate your brand safety.
Why don't you try out Web Push Notification remarketing? 
Web Push Notification
The WPN - Kesako?
Totally uncorrelated from web browsing and free of any broadcast mediumWhen you click on the "Notify" button, the notification is sent by the browser and appears directly on your audience's screen! Thus, the subscriber does not need to be surfing the web to be notified and only needs to be connected to the internet (WIFI, 4G, ...). Moreover, the notification is ephemeral and disappears after a few seconds making it a minimally intrusive and appreciated by subscribers.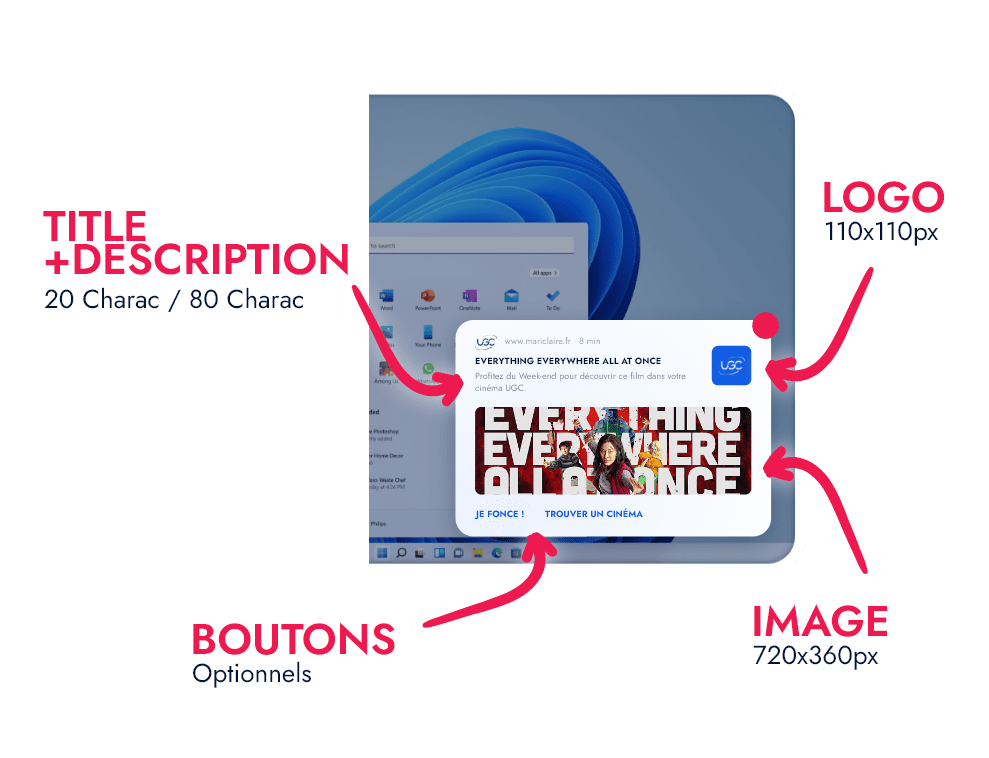 Problems fixed by Web Push Notification remarketing
The advertiser has total control over its marketing pressure.

No advertising fraud is possible because it is a direct link between the Internet user and your brand.

Advertising is displayed directly on the screen (100% Brand Safety)

The format is

minimally intrusive thanks to the rexpress prior consent

It is possible to contact

36% of French people using an Adblocker
Adrenalead launches its Web Push Notification Audience Remarketing offer
How does it work?
Adrenalead has developed a unique technology in Europe allowing you to reach visitors you don't know yet. And this is thanks to our Web Push Notifications advertising network.
An Internet user visits your site

We recognize it because it is part of our subscriber base for the Web Push Notification advertising network.

We send a web push notification presenting your offer

Each click of a user on the notification redirects him to your site (url of your choice)

BONUS: You can also take advantage of qualified audience segments (e.g. clickers from your campaign, visitors to your site who subscribe to our network).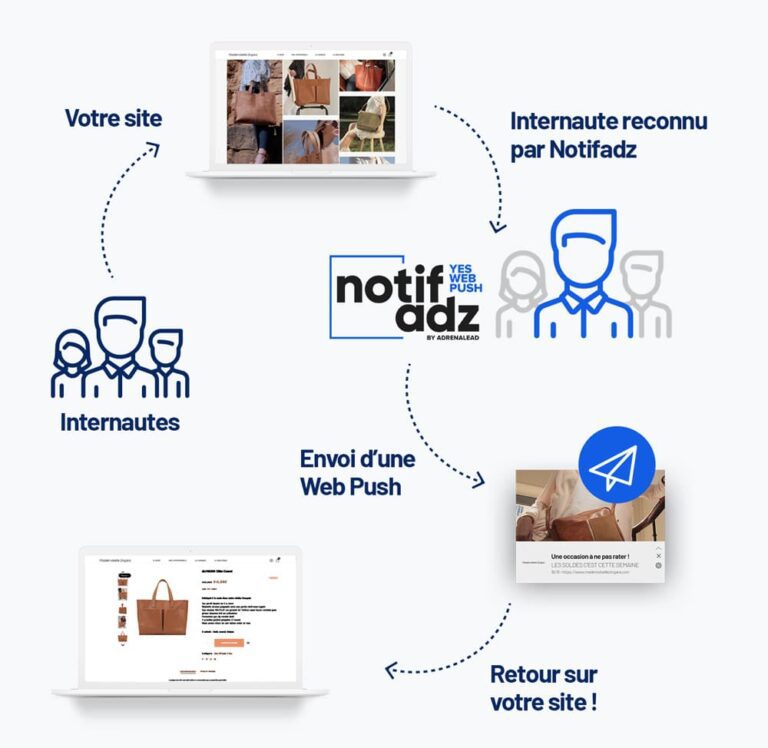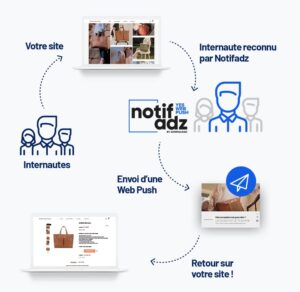 All this makes Web Push Notification a new innovative and efficient digital format to communicate with your website visitors and capitalize on your web audience. Innovative yes, but what about the performance of the format?
The new Eldorado for brands looking for performance and ROI!
Adrenalead combines the best of both worlds: Web Push Notification collection and delivery technology and exclusive audience extension offers. The entire range of solutions allows you to capitalise on an innovative and efficient strategy based on the Web and Mobile Notification format.
By activating our Web Push Notification customer activation solutions, e-commerce and e-Retail sites experience an average 200% increase in their reach ! In other words, this means that they are able to bring back three times as many users who have visited their site than with traditional remarketing methods. That's three times more likely to convert a qualified lead, while being sure to preserve their brand image and RGPD compliance!
In addition, retargeting with Web Push Notification has a click-through rate (CTR) of over 4% with a conversion rate of over 10%!
Let's discuss this for your year-end strategy!