We're here to let you in on a little secret that gives advertisers a leg up: marketing automation. That's right, this little touch of magic can boost your traffic and rack up extra sales, all without costing your marketing teams any of their valuable time. So, what exactly is this marketing automation all about?
Simply put, marketing automation is like a magic wand that activates your campaigns automatically. You create marketing scenarios whose parameters are defined ahead of time. Once a user meets the criteria defined in the scenario, the campaign is launched automatically.
While this form of marketing is already commonplace in email marketing, not many people are aware that you can also automate campaigns using Web Push Notifications.
To show you how powerful this tool can be, we've put together a list of 9 automated Web Push Notification campaigns. These are easy to implement, but guaranteed to help you stand out.
Let's look at some of the top automated scenarios you can implement within your web marketing strategy in order to boost your site conversion rate.
The automatic
"Welcome Push"

notification

Just like the welcome email that you can set up when your users subscribe to your newsletter, you can create a Welcome Push!

This is one of the easiest automatic notification scenarios to set up! When a user visits your site and subscribes to your web or mobile notifications, you can thank him by welcoming him. Adrenalead proposes to activate this scenario, either instantly, or to activate it within a certain period of time following the subscription. We call it the Welcome Push because it is the first notification that the user will receive after his subscription.

In this type of automatic notification, we generally advise our advertisers to make their users come back. For example, by proposing an exclusive welcome offer via a promotional code.

You can also advise to visit a specific page, presenting your most popular offers of the moment.

Example: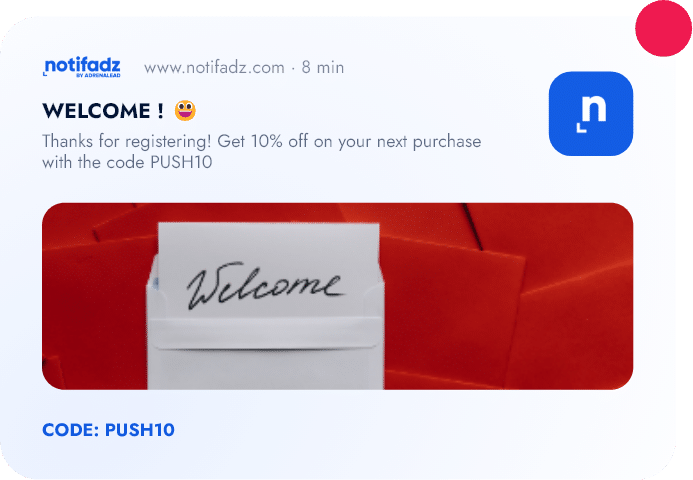 In need of inspiration? Take the recipes of your automated emailing campaigns that you have set up! The main advantage of web push notification is that it allows you to convert 15 times more internet users into subscribers to your brand than a newsletter!
Automate your
"Cart Abandonments"

with Web Push Notification

In France, about 70% of Internet users have already abandoned their shopping cart. Several reasons explain this! The first cause of cart abandonment (60%) is too high delivery costs. Secondly, some Internet users just want to know the total price to be paid and want to take some time to think before doing a purchase (57%)*.

The automatic "cart abandonment" notification is also easy to integrate. When a subscriber to your notifications abandons his purchase before the validation of his cart, you have the possibility to send him a cart reminder to help him finalize his online purchase.

For example, if you know that delivery costs can be a major deterrent to buying, you can create a coupon code that will offer delivery costs to that user. Sometimes it is more interesting to sell a product by paying for delivery costs, rather than not selling it at all.

For example: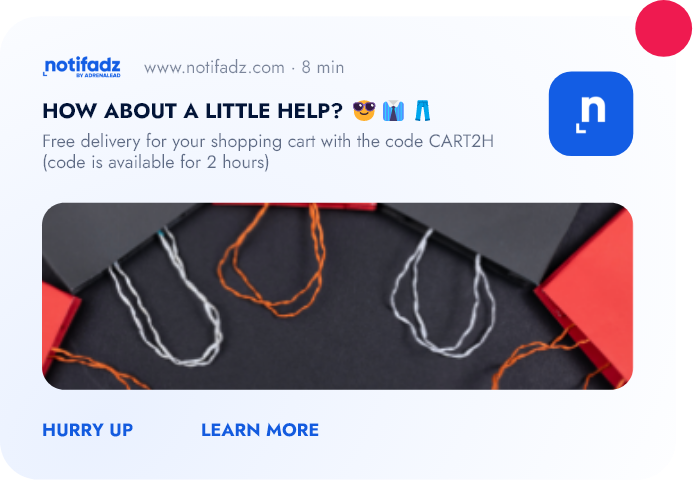 If you don't want to generate a coupon code, it is possible to create a notification that reminds the user that he has items in his cart. Then you can encourage them to complete their purchase.
Here again, let your creativity run wild! Analyze the recurring causes of shopping cart abandonment and notify users so that they come and convert with you!
Automatic
"Thank You"

Notification

Just like the thank you email, you can automatically send a web notification to your buyers! This offers many benefits:

First of all, this notification will reassure the buyer that his purchase has been confirmed. Then, it will allow you to thank them for having placed an order with you. Finally, you will be able to offer them a voucher for a future order for example.

In terms of customer loyalty, the automatic thank you notification sets the bar high! Here is an example of a thank you notification: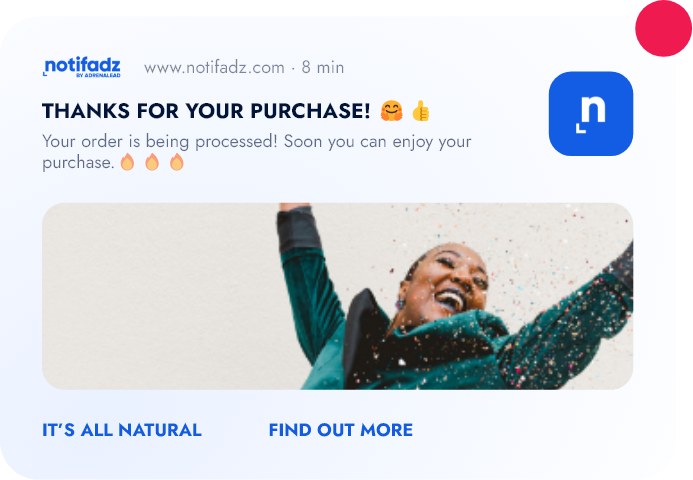 Automate a Web Push Notification to request a
customer review
What if, a few days after a purchase, the Internet user receive a notification to give his opinion on his last purchase?
For the past few years, rating in all its forms has been on the rise. Generally represented by a rating of 0 to 5 stars, 77% of buyers consult customer reviews before ordering. And don't be fooled, it is not necessary to have 100% positive reviews! Of course, the average must be good for you to have a better chance of converting. But what matters most is the number of reviews you receive! Moreover, if you take the time to respond to negative reviews in order to provide a concrete answer to buyers, you will reassure potential buyers about your honesty and your after sales service.
So, by scheduling an automatic notification to request a customer review, you will increase the number of reviews you receive about your business, which will gradually make it more popular!
Here's an example: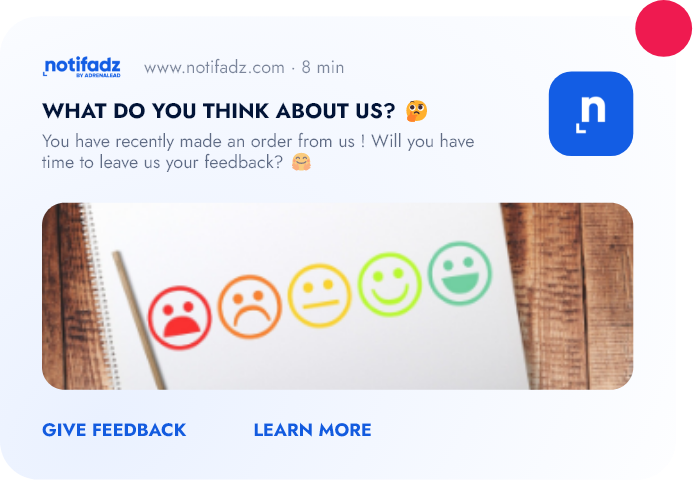 Recurrent notification

for consumables

You know your products well. You know the average time it takes for your product to be consumed and therefore to be repurchased!

Nowadays, we function a lot with reminders / alarms. Indeed, our lives are very busy and our mobile devices help us a lot to schedule our days. Get ahead of the game! Notify your buyers that it's time to restock at your place.

Let's take the example of a body lotion. You know that it takes an average of 23 days to empty a tube of milk. So schedule a notification 20 days after the purchase of a bottle to warn the buyer that it's time to buy another one… From you, of course!

For example:
You can imagine this type of campaign for other types of products. For example, if a user bought a coat during the winter collection, offer him to buy swimsuits or t-shirts during the summer collection!
Connect your CRM to our API to send
customized automatic notifications
Today is Mr X's birthday. In three days, Mrs Y will lose her loyalty points… You can know all this thanks to your CRM. Some advertisers already use email to make personalized offers to their customers.
You have the possibility to increase the reach of your message by multiplying the distribution channels thanks to the Web Push Notification! Another important advantage of this format is that the web notification appears directly on your audience's device and redirects them to your chosen page in one click! This makes the number of clicks on the link much higher than that of the email.
Here is an example of a custom notification you can program: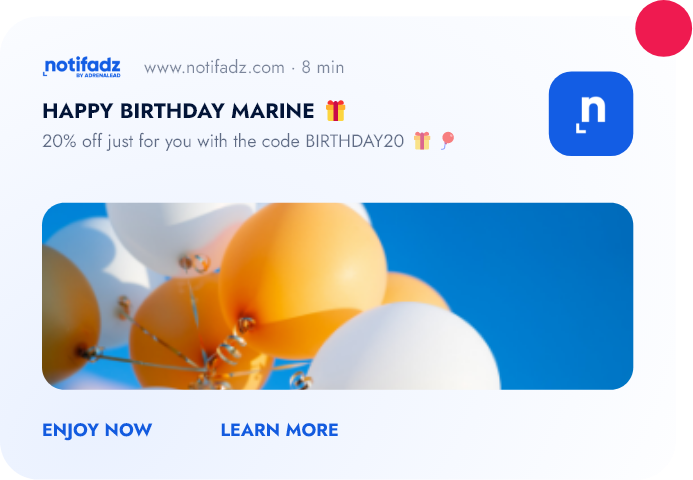 Automate your reminders using

the Web Push product category
When a visitor explores various product categories on your site but doesn't end up making a purchase, you can use Web Push Notifications to bring them back to the store and encourage them to pull the trigger on their purchase.
Let's imagine someone has viewed your range of floor cleaning products. You can send them a personalized notification saying something like: "Hey! You recently looked at some of our floor cleaning products. Did you know we have the best online prices?"
This subtle yet persuasive approach allows you to give the customer a nudge without pushing them into a purchase, helping to enhance the visitor's engagement with your brand and convert them into a loyal customer.
Cross- and Up-selling campaigns:

Spice up your sales!
Cross-selling and up-selling are powerful techniques for increasing your revenues while also offering your customers a personalized purchasing experience. And guess what? Web Push Notifications can also play a key role in this strategy !
Let's say your customer has added a product to their basket. This is the perfect time to suggest related products from a high-value range that might also interest them. For example, if they've selected a smartphone, you can suggest protective cases, wireless headphones or even package bundles with an assortment of accessories.
Lay on the charm to capture your customer's attention: "I see you've picked a great smartphone! Why not give it some protection (and turn a few heads) with our selection of fun, colorful cases?"
Identify which products will naturally complement the product in question and suggest them at the right moment, just before the order is confirmed. This is an excellent way of increasing the average basket value and stimulating sales.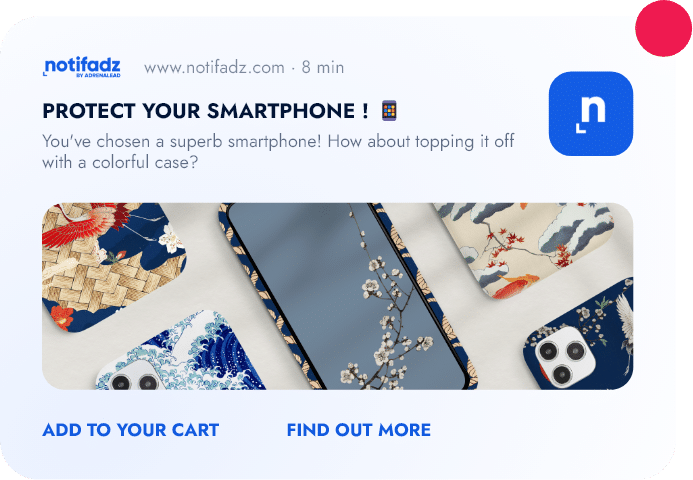 Guide your prospects toward conversion:

using Web Push Notifications to enhance nurturing
Nurturing is the art of developing a relationship with your prospective customers, and is essential in terms of guiding them through their customer journey. Web Push Notifications offer a unique opportunity to implement personalized reminders that will nurture your prospects and encourage them to explore your product range or categories further, without clogging up their inbox.
The goal of nurturing is to keep your prospects engaged and maintain their interest, while simultaneously guiding them toward conversion. Web Push Notifications are a powerful tool for achieving this objective, as they allow you to interact with your prospects in a direct and instantaneous way.
For example, when a prospect registers to receive web push notifications or visits certain pages on your site, you can push editorial content from your blog to help get them thinking about your products or your brand.
By integrating Web Push Notifications into your nurturing strategy, you can create a personalized and engaging experience for your prospects, guiding them toward conversion in a proactive way.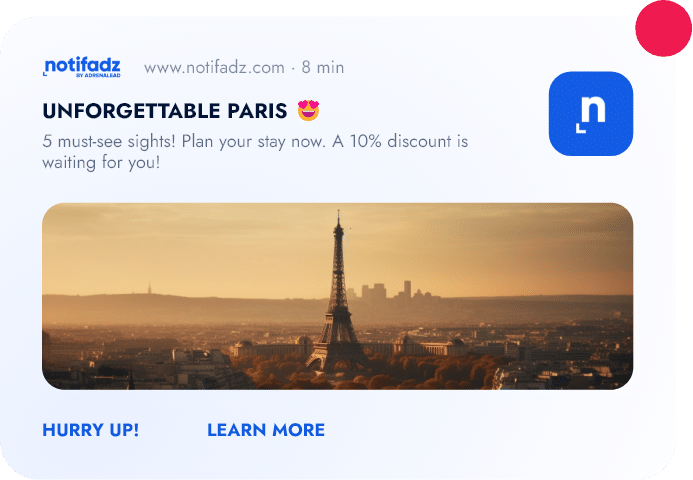 Automated web push notification campaigns are a valuable tool for stimulating engagement, customer loyalty and conversions. By implementing the 9 campaign ideas listed above, you can tap into the full potential of this marketing strategy. Identify the opportunities that work best for your company, and seize upon them in order to enhance your impact and achieve your objectives.
The only limit is your imagination!
Request your demo today, and start deploying Web Push Notifications to captivate your audience and boost your sales!
* Source : Statistiques sur le eCommerce pour 2023 – Chatbots, Voix, Marketing Omni-Channel