The French are more and more connected and the budget allocated to digital advertising represents more than half of the global budget of brands. Advertisers' acquisition strategies are becoming more and more sophisticated and are looking to move away from traditional formats to increase customer engagement on their sites. Discover in this article how to activate an efficient customer acquisition strategy for e-commerce sites.
Advertisers are increasingly faced with ad fraud. 50% of the generated clicks come from robots. This has a direct impact on their customer acquisition costs. In some cases they are also confronted with Brand-Safety problems that directly impact their image and brand reputation. All these issues are pushing more and more advertisers to reorient their digital customer acquisition strategy towards more controllable and secure levers.
The online advertising industry is changing, as evidenced by the various browser announcements that they will eliminate the use of user data (behavior and user profiles) collected via third-party cookies.
This market transformation directly impacts the customer acquisition strategy of e-commerce advertisers and the effectiveness of existing distribution channels such as retargeting. Retargeting is a very popular lever for advertisers because it allows them to bring their visitors back to their site and try to convert them on a product they have already consulted a few days or even hours before. This retargeting technique is often expensive, because the user is often oversolicited by the same advertisement during his web browsing. The brand has little or even no control over the marketing pressure exerted on these Internet users. Moreover, a third of the audience is not retargeted in programmatic because of the rise of Adblockers.
Web Push Notification, which is less intrusive because it requires the user's consent to send notifications, is an innovative format. It allows e-commerce advertisers to control their audience and to reach Internet users directly on their devices without them being necessarily connected to their web browsing.
Definition of
customer acquisition
Customer acquisition is an approach that consists of developing strategies to boost the number of Internet users purchasing from the brand's website. It encompasses the many different marketing and commercial methods, both online and offline, that allow you to find new customers and encourage them to buy.
How to run a profitable customer acquisition campaign?
Acquiring new customers can be done in different ways.
Traditional customer acquisition techniques include cold calls and letters, emails, social networks, marketing content, SEO, display ads and paid search advertising. But there are new, innovative and powerful digital customer acquisition levers that every brand should try or at least know about.
Different customer acquisition methods for your eCommerce site
1. Organic referencing (SEO)
Natural referencing or organic referencing is a technique that allows to optimise the visibility and positioning of a website on a given subject in the search engine results pages.
These techniques refer to the many criteria that search engines use to evaluate your website. The more you work on the content of your site (homepage, category pages or blog posts) that supports your inbound marketing strategy, the better your ranking will be.
Organic referencing has become essential in the development of your web business to continually generate more visitors. Being present in the organic listing of search engines will make your business visible to your potential customers and will attract more traffic to your site.
The organic referencing will allow to establish the notoriety of the site in the long term and to guarantee its presence in good place on the search engines.
2. Paid search (SEA)
For paid referencing the brand buys keywords on which it wishes to appear in search results.
When a user enters a keyword in a search engine, he/she firstly sees the ads paid by brands for that keyword.
The more relevant are the chosen keywords to your business, the greater the impact they will have. This is a powerful weapon to improve your conversion rate.
Paid search has a limited effect in time: as soon as a company stops paying for a keyword, it is no longer displayed at the top of the results page. Contrary to natural referencing which ensures its place by the application of a large number of strategies.
3. Customer acquisition through external content
Third party sites that link to your website allow you to promote your business to a new audience .
The Google algorithm appreciates sites whose contents are linked together. Indeed, this proves that your different texts have a specific objective and fit into a logical tree structure.
In SEO, Netlinking is an essential practice to gain visibility. In addition, partnerships with other players in sectors close to yours can help you gain the trust of users and progress more quickly.
Today, external links are naturally integrated into carefully crafted content, providing useful information to Internet users. The user experience must be your priority.
4. Offer an affiliate program
The affiliate programme is a partnership between your e-commerce/commercial site (affiliate) and a publisher/media site such as bloggers, influencers (affiliator). In return, affiliators are paid on a commission basis for sales, application installations, or leads generated from their links or discount codes.
Hyperlinks or the use of discount codes allow the tracking of transactions or actions generated by visitors "sent" by the affiliates and the accounting of the remuneration/commission due to the latter.
This affiliate program generates new customers through incentive-based referrals. While you increase your ROI through customer acquisition, your partner generates additional revenue through the commissions you pay them. Their audience must be in your target market and their message must correlate with yours.
5. Social networks
Social networks are also an excellent lever to generate traffic to your content, but also to convert.
Today the main social networks used by advertisers are: Facebook, Instagram, Linkedin, Twitter, Pinterest, Youtube and Snapchat.
Social networks are promotional and communication tools that allow to reach a large audience and offer more and more features for social commerce.
All you have to do is to find partners whose products or services are related to yours, or who have affinities, and spread the right message at the right time, making yourself as attractive and impactful as possible by making the right choice of medium according to your target.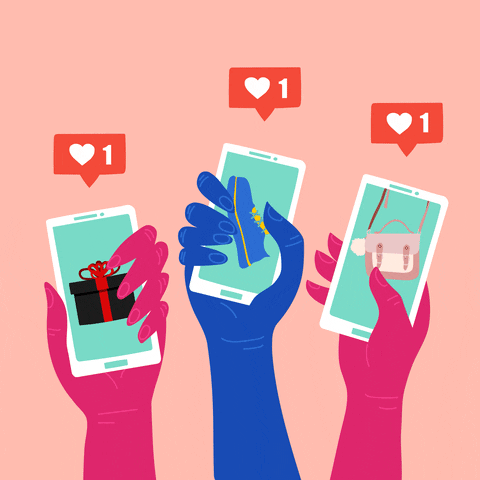 6. Customer acquisition via influencer marketing
Influencer marketing is based on the notoriety of a person and the articles that this person decides to recommend.
It is about using influencers, present on social networks, to promote your brand image, some of your products or services and optimize your natural referencing. Influencers have become new prescribers for brands.
To increase the visibility of your online shop (and your sales), it is preferable to use influencers specialised in your sector of activity.
7. Emailing
Emailing, a key tool in the customer acquisition strategy, is part of the customer retention process.
It allows you to promote your brand, to create a link with your customers, to highlight a product, to relay information about an article, to broadcast special offers…
It is therefore essential to have a solid, well-informed database.
8. Growth Hacking
It is the set of practices and techniques that are used to ensure the rapid growth of a product or service on the Internet.
The permanent objective is to aim for exponential growth with your online shop.
It is first and foremost a question of growing the number of visitors and active users, before thinking about profit, in order to ensure the sustainable growth of the company.
9. Re-editing old content
A simple solution is to update the publication date of the article and republish it. This will bring it to the top of page 1 of your blog feed and give it a significant SEO boost.
Updating your articles starts with updating the figures and data published in them. To do this, consider transforming these lists into striking infographics. Internet users retain images more easily and, above all, they can more easily consult a visual on their mobile. This type of content also has a high potential for engagement and usually gets shared. Rather than leaving articles that aren't really in sync anymore, take them back and add other complementary and relevant elements.
10. Translate your e-commerce site for international customer acquisition
Having an e-commerce site is therefore essential to sustain your business. However, to succeed in developing internationally, it is necessary to develop your site in the native language of your customers. This improves their experience, reassures them and encourages them to buy your products or services.
All information on the website will be translated, but with specific approaches depending on the target. A website translation is specific for each target language. It takes into account many geographical, linguistic and especially cultural parameters.
11. Create a co-branded campaign
A partnership must also be beneficial to both parties. You must join forces to achieve common benefits.
A co-branding strategy allows you to promote your e-commerce site through carefully selected partners. This method allows you to gain qualified customers without blowing your marketing budget.
12. Web Push Notification as a customer acquisition lever
The Push Notification is a window that appears directly on the screen (mobile or desktop) of the Internet user, in the form of a clickable message composed of images and links.
The direct communication format between the advertiser and the Internet user therefore respects the brand image. It allows to communicate with the visitors of its site, even those having installed an Adblocker. This innovative communication format has many advantages for e-commerce sites, but also for Internet users.
Advantages for Internet users :
a system that respects the privacy of Internet users and their choices: the collection of consent is mandatory,
a non-intrusive advertising format: it is possible to unsubscribe at any time and the notification is ephemeral,
Web Push Notification is uncorrelated with the user's navigation on a site.
Advantages for advertisers :
100% of the audience can be reached in real time (24/7),
a powerful format to increase return on site and customer engagement,
controlled marketing pressure,
a reduction in retargeting expenses, (on average 100 times fewer displays are needed for 1 click than a banner ad)
improved SEO,
the first opt-in display format.