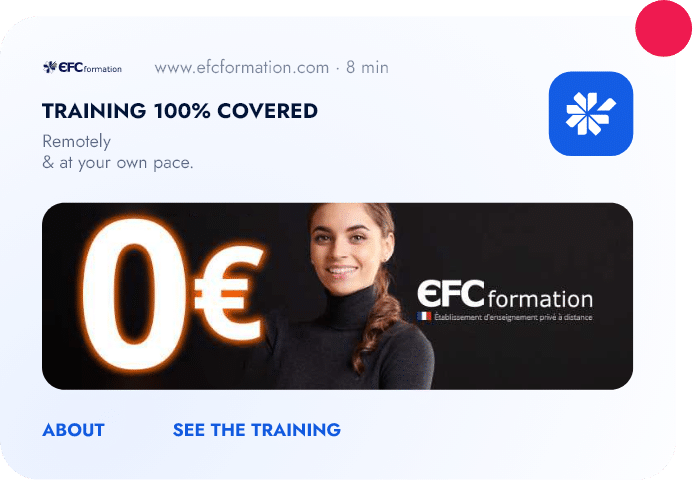 EFC Formation
the private distance learning institution
Read Jory Giner's experience, Traffic Manager at
EFC Formation
Founded in 1945, EFC Formation is a center that offers distance learning courses leading to qualifications and specializing in business activities, as well as preparation for exams taken by free candidates. Jory Giner, who has been the company's Traffic Manager for the past 6 years, shares his experience with Adrenalead's Web Push Notification solution. He is in charge of managing the company's websites, the various digital marketing levers and the advertising campaigns broadcasting to introduce the company and its services.
In what context did you call on
Adrenalead?

What were your preferred marketing levers up until then?

We met Aurore, Adrenalead's co-founder, at a trade show. At the time, we were looking for effective ways to attract new prospects. We had already heard of Web Push Notifications before, but had not had the opportunity to use this type of advertising format.

We have tested many historical levers that lend themselves well to the training environment such as SEM (Google, Microsoft), social networks, training engines such as Ici formation and jobboards (e.g. Meteojob).
What
advantages

did the Adrenalead solution offer you?

The benefits of Adrenalead's Web Push Notification are multiple: a very simple implementation, as well as easy to set up and automate ads. This is a real point of difference compared to other solutions whose integration and handling can be quite time-consuming. Moreover, the relationship with the Adrenalead team is easy and natural. The team is both available and responsive, which is much appreciated.
What are your
objectives

and what

strategy(ies)

has EFC Formation adopted?

Our main objective is to try a differentiating lever and to discover what this new lever can bring us not only in terms of results and profitability but also in terms of acquisition. This last point is essential for feeding the prospect base and deploying our offers.

We use Web Push Notification for aqcuisition with a redirection to the form page designed to collect the contact details and questions of our prospects. Once the form has been filled in, they are contacted by a study advisor who answers their questions and guides them towards the type of training suitable to their needs and career plans. Personalized scenarios and scheduled campaigns are also used to retarget Internet users.
So far, what have been the
results

for EFC Formation?

We have been using Adrenalead since August. For the moment, the leads acquisition cost is a little high but we have noticed that the lever is effective in transforming leads into students and that the personalized scenarios (remarketing) allow us to have cheaper leads. We think that Adrenalead's solution should be seen as a global solution whose levers are complementary.
What would be your
recommendations

for getting the most out of the solution?

To maximize campaign performance on the conquest side, care must be taken to use very accurate messages to obtain qualified contacts and avoid bad clicks (which will be invoiced). On the remarketing side, users have already activated the notifications on the site. It is therefore easier to retarget them with relevant information that is not necessarily highlighted on the site.

In the terms of performance, in September we recorded 14 leads, including one registration, a CPA of €67.41 and a return on investment of €4.22 (for 1 euro spent).

We are considering new remarketing campaigns, as the base is quite interesting, to capture the active base with new messages.

We are currently in a test & learn phase and are satisfied overall. The solution is a good complement to the other levers we use.

Want to find out more?
Discover our use cases