e-Commerce and its peak season send businesses into a frenzy of activity. From Black Friday to Christmas and New Year, through private sales and winter sales, this period – dubbed the "Golden Quarter" by marketing experts – drives industry with remarkable energy.
On a European scale, e-commerce has recorded breathtaking growth, rising by 13% to 718 billion euros*. On the other side of the globe, the sector has shattered expectations by generating almost 5,000 billion dollars, growing by a staggering 16% in 2022. In this buzzing environment, we'll guide you through the subtle art of Web Push Notifications, a secret strategy you can use not just to convert visitors into subscribers, but also to propel your sales to new heights.
Let's grow ! 🚀
What is

peak season,

exactly?
Peak season is the busiest time of year for commercial activity. It's the time when sales increase considerably and many people make purchases.
Peak season is generally marked by special events such as Black Friday, Christmas and New Year, private sales and the winter sales. Businesses make a large proportion of their annual sales in this crucial period. Brands and retailers often deploy special marketing strategies to attract customers and take advantage of this busy period.
Why activate Web Push Notifications in

peak season
A retargeting solution
Web Push Notifications do not require you to collect personal data such as email addresses or any other information in order to communicate with users. Subscribers can register with one click (click on the "Allow" button in the browser window). Web Push Notifications are an effective way to bring visitors back to your site in addition to traditional retargeting levers, especially during peak season.
Web Push Notifications offer brands an alternative to email for keeping in touch with visitors to their site (whether prospects or customers), by enabling them to be notified of the brand's news. This allows subscribers to be notified of peak season special offers, new services and any available loyalty offers.
It also allows brands to communicate directly on screen with their subscribers. That makes it an innovative format, providing a direct link between the web user and the brand, with no need for users to visit a communication platform (website). Indeed, the user doesn't need to be browsing a site to receive a web notification.
The importance of retargeting in peak season
If, however, sending Web Push Notifications ahead of peak season arouses web users' interest but doesn't actually prompt them to make a purchase, you still have the option to run automated campaigns.
People often add products to their cart but leave the site without checking out. This problem can be reduced to a great extent by opting for a marketing automation campaign using Web Push Notifications. These alert users if they have left any items in the cart without finalising their purchase. By sending the user personalised reminders, you'll increase the notification's click rate and encourage conversions.
A cookie-free, GDPR-compliant retargeting solution
Did you know Web Push Notifications also work without cookies? Indeed, there's no need to use cookies to retarget a web user who has signed up to receive push notifications from your brand! This point is very important because third-party cookies are due to be phased out by 2024.
Web Push Notifications are a 100% GDPR-compliant solution. The web user gives their consent by clicking on "ALLOW".
Real-time communication in peak season
Data on the user's behaviour and point of view are also essential. Web Push Notifications must be sent to a particular audience segment to avoid bothering those who are not interested.
Why not send out your Web Push Notifications according to your users' time zone and region? Depending on the aim of your campaign, you can target the residents of a specific town or country for more pertinent and personalised communication.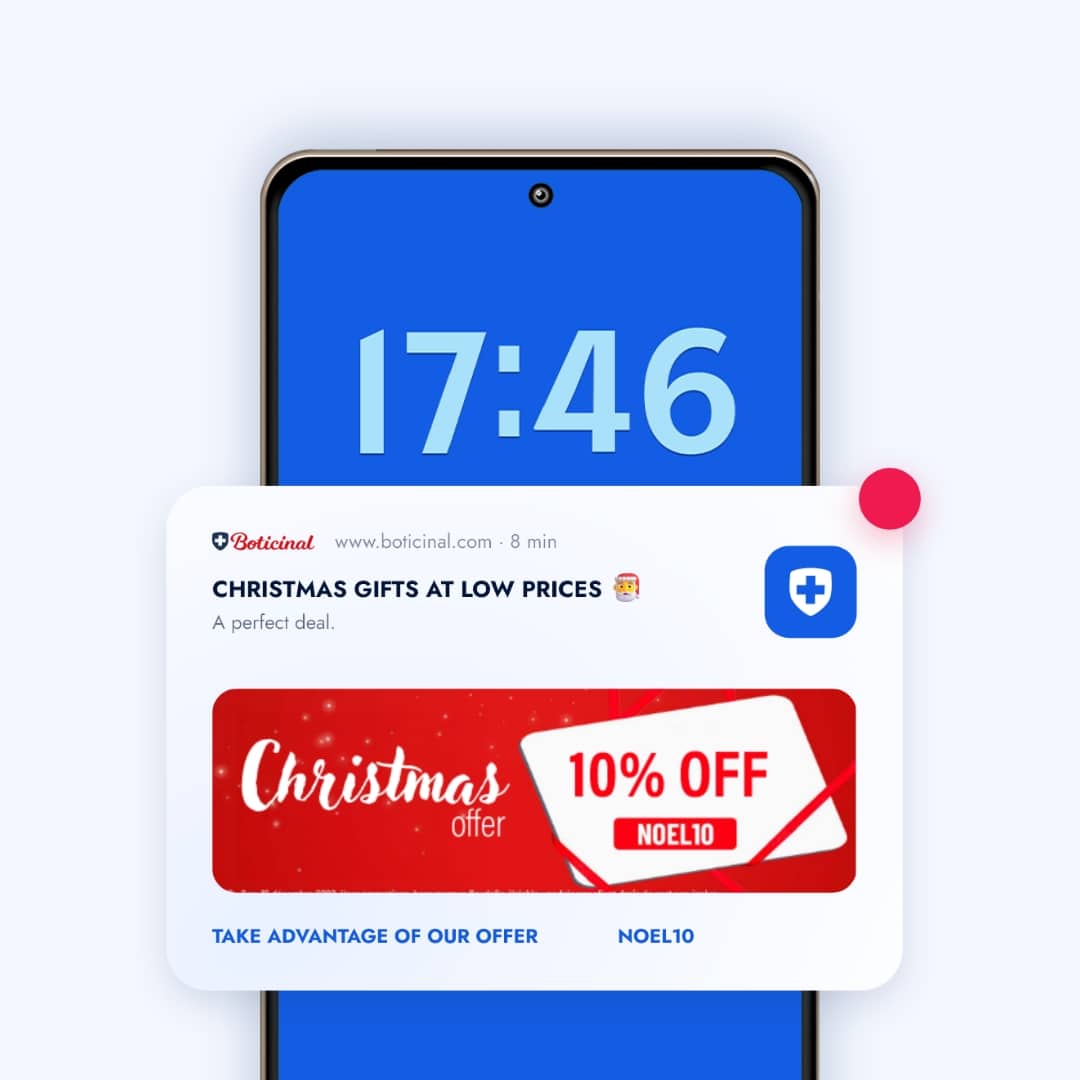 We know timing is crucial in marketing. Getting the right message at the wrong time is frustrating, isn't it? And it can even harm your chances of concluding a sale.
A poor understanding of timing can cause you to miss out on all the existing potential and backfire on you! Your users might unsubscribe or block your notifications, and you risk losing your loyal customers. But don't worry, there's some good in all this! If you choose the right moment to send your push notifications, you can boost your web traffic and expand your subscriber base.
An infographic that illustrates how to customize Web Push Notifications based on peak season events to grab subscribers' attention, spur them into action and boost sales in a fun and effective way! 🎁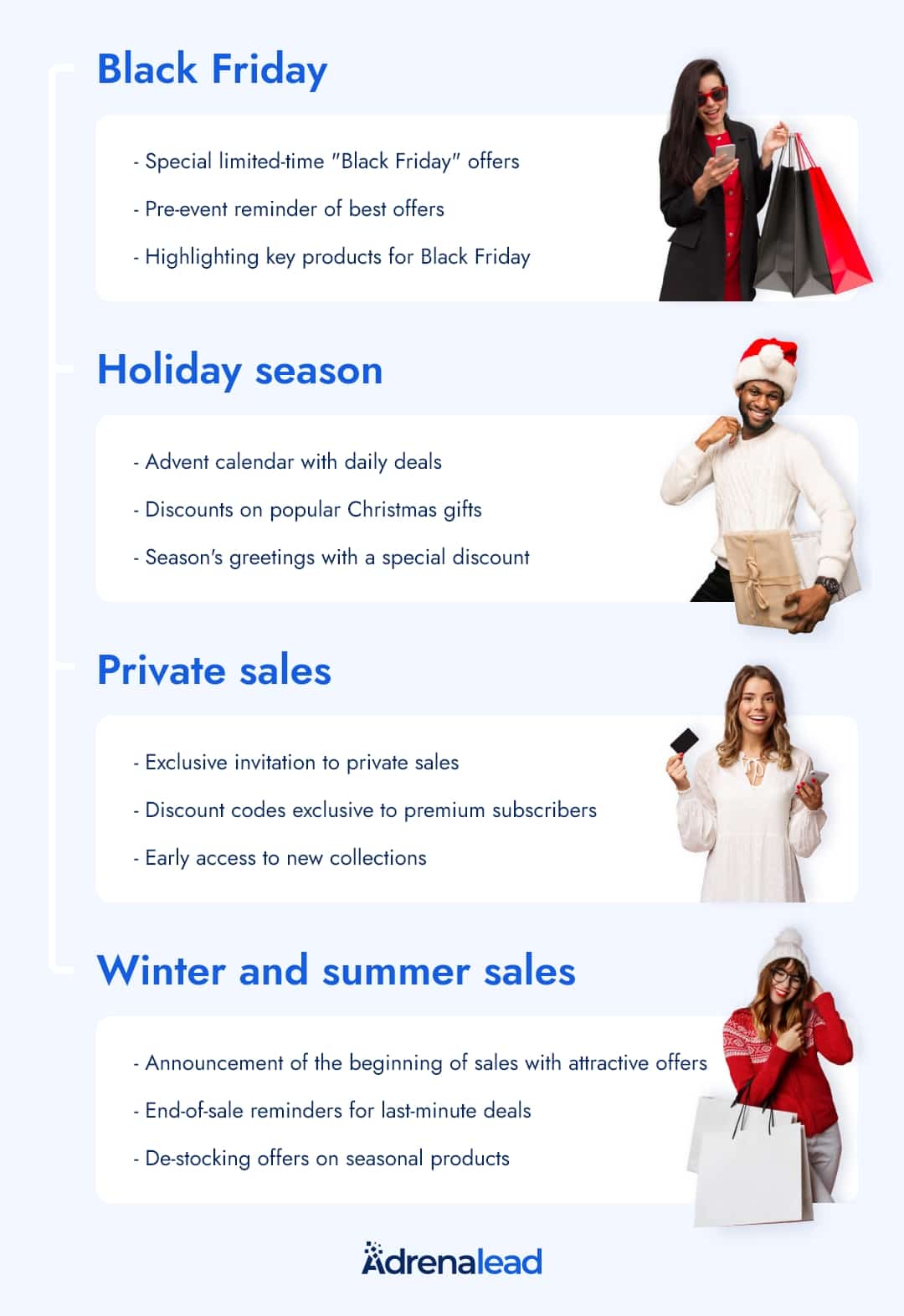 Safety and reliability:

how Web Push Notifications protect your brand
Brand safety: the brand image is preserved
During peak season, the busiest time of the year, it's essential to protect your brand image. That's when Web Push Notifications come into their own as a kind of sentinel that keeps your reputation safe. They protect you and help you control the message you send to your target audience.
Imagine this situation: after working hard to create a trusted brand, you've managed to build a respected and well-known identity. However, there's always the risk that a poorly placed or unsuitable advertising campaign could compromise this hard-won reputation. The risk of your ads landing on dubious or even downright harmful websites could tarnish the image you've patiently built up.
Web Push Notifications get around ad blockers
Web Push Notifications get around ad blockers, making them a resilient communication channel in the face of the challenges posed by content blockers. Unlike traditional banner ads, Web Push Notifications get through ad blocker filters because they are natively integrated into users' browsers. When your potential subscribers opt to receive your notifications, these permissions are stored directly in their browser.
This resistance to ad blockers becomes particularly valuable during peak season, when competition for consumers' attention is at its height. While other channels can be restricted or blocked, Web Push Notifications manage to break through this digital barrier. Your potential subscribers have already expressed their interest by agreeing to receive these notifications, which are stored directly in their browser.
This means that even when users have enabled ad blockers to filter out unwanted messages, your messages via Web Push Notifications will continue to reach them. So, during private sales, seasonal sales and peak season special offers, you can be sure that your communications will reach your target audience effectively, without being hampered by technical obstacles.
A safety bubble: Web Push Notifications guard against online fraud
Web Push Notifications are a safer option in peak season because they come directly from your brand. Users who subscribe to push notifications have expressed their interest and trust in your company, creating an environment where they can receive authentic, unaltered information. This is in contrast to fraud attempts, which often present themselves in a misleading guise or claim to come from official sources in order to trick users.
In peak season, with so many promotions and special offers available, consumers are likely to be more vulnerable to online fraud and scam attempts. Web Push Notifications act as a protective layer by providing reliable and verified information directly to users. The "safety bubble" reassures and protects online consumers. This way they can enjoy all the advantages of peak season offers.
How to use Web Push Notifications

before and during peak season
👈🏼Before Peak Season
Pre-launch notification: Before peak season, send notifications to announce special offers, sales or new products that will be available during the peak period. This will create excitement among your subscribers and make them impatient for the sales or promotions to begin.
Special offers for subscribers: To encourage more people to sign up for your Web Push Notifications, you can run exclusive offers before peak season starts. For example, you could offer a special discount or early access to private sales, only for those who subscribe to notifications. This will create a sense of exclusivity and encourage visitors to subscribe so they don't miss out on these advantages.
Reminder of Favourite Products: If your customers can add products to their list of favourites, send them a notification to let them know when these products will be in the sales or on promotion in peak season. That encourages them to return to your site and finalise their purchases.
👉🏼During Peak Season
Flash Sales: During peak season, organise flash sales with time-limited offers. Use Web Push Notifications to let your subscribers know the exact time of the flash sale and the limited duration of the offer. This creates a sense of urgency and encourages customers to act quickly.
Cart abandonment: During peak season, many customers may abandon their cart before finalising their purchase. Use push notifications to remind users to complete a purchase by offering a special discount.
Private Sales Notifications: Organise exclusive private sales for your subscribers and send them notifications to invite them to take part. You can give away gifts or reduce delivery costs for subscribers during private sales.
💡And then : If you've planned remarketing or acquisition campaigns via Web Push Notifications during peak season, remember to activate our SaaS solution or a window for people to sign up to your newsletter. You can send notifications or thank-you emails to show your gratitude to new subscribers. You can also offer them a special discount code as a reward. This encourages them to continue exploring your offers even after peak season, to keep your customers engaged.
A final word
The peak season offers companies fertile ground for boosting sales and strengthening customer engagement. Web Push Notifications are a major asset, offering unrivalled reach to communicate with an extended audience at all stages of the marketing funnel.
They play a key role in keeping users engaged in a fiercely competitive market, at a time of tension such as the peak season.
Their exceptional opt-in rate of 15%**, well above that of newsletters, underlines their relevance and effectiveness. What's more, their privacy-friendly approach reinforces user trust. By using Web Push Notifications, brands can increase their chances during peak season and build customer loyalty.
Put Web Push Notifications to the test and watch your success grow. 🔥
What they say ⭐
"The end-of-year period was really a chance for us to boost this solution, especially during Black Friday, Christmas, etc. Meanwhile, we increased our weekly communications and I think that's what enabled us to perform well."  
⭐⭐⭐⭐⭐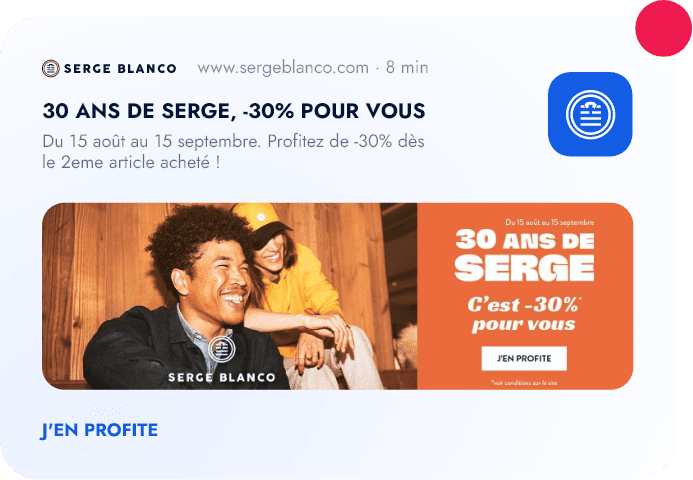 *Fevad
**Average opt-in rate among Adrenalead's SaaS customers. No contractual value.