Web Push Notification is a very effective communication channel in terms of customer engagement. It allows you to send a short message to the Internet user, from the browser, directly on his computer or mobile. But it is also a powerful ally for your retargeting campaigns! We tell you more just below.
Retargeting:
overview
Retargeting or advertising retargeting allows to reach Internet users who have visited your website, by showing them targeted advertisements (visual or textual) when they surf on third-party sites. All this is based on the behavioral data of their browsing history.
Retargeting campaigns can be carried out through various platforms, including Google Ads, Facebook retargeting, LinkedIn Ads and other retargeting advertising platforms:
SEA: Google Adwords search retargeting allows to display targeted search results on relevant keywords for the brand
The Google display network allows you to broadcast a campaign in the form of advertising banners , on sites relevant to the company's sector of activity.
Social networks have a lot of data on Internet users, which also allows for fine targeting. This retargeting can take the form of posts or videos, depending on the network chosen.
On condition that the user agrees to communicate, email can also be used for retargeting
New arrival in the AdTech landscape, Web Push Notification also allows retargeting of Internet users
This helps to keep your brand in the spotlight and bring qualified traffic back to your site. Conversion rates are much higher than with traditional socio-demographic targeting. It is an effective way to re-engage an audience that has already interacted with your brand.
Today marketers use retargeting as an essential tool to increase sales and customer loyalty.
How does retargeting work?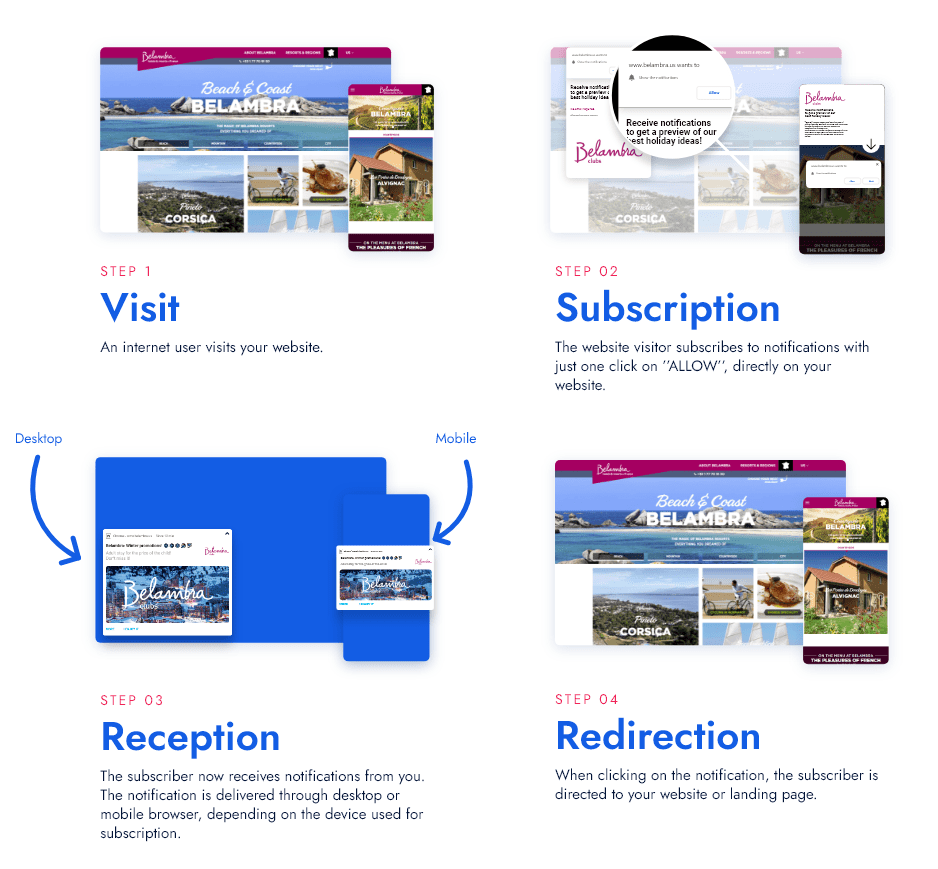 Retargeting is a cookie-based technology that uses simple Javascript code to anonymously "track" the web.
When a user visits your site, the Javascript code placed on your website allows you to track your visitors thanks to cookies that retrieve and store data.
So, every time a new visitor comes to your site, a cookie is downloaded to their browser.
The visitor navigates to another website, where there are ads.
The cookies in his browser are analyzed. And if necessary, advertisements corresponding to him are displayed.
This allows the user to return a second (third, fourth…) time to the brand's website.
The whole process is automated as the page loads, the ad space will be redeemed and the ad will appear next to the page content.
The
benefits

of retargeting

Retargeting is aimed at prospects who have already shown an interest in your brand and has several objectives:
1. Increase brand awareness
Launching a retargeting campaign can increase your brand awareness.
These Internet users have already expressed an interest in your products or services, so by re-exposing them, you increase your chances of converting them into customers.
Retargeting ads put your business in front of customers, reminding them of brand value or the appeal of specific products or services. Retargeting reminds customers of a forgotten information.
2. An effective way to turn interest into conversion
Retargeting boosts return visits to your website as it allows you to target consumers at the right time with the right product.
For example, it is possible to retarget visitors who have spent a certain amount of time on a specific product page. An interested visitor will tend to spend more time on the web page because he reads it carefully instead of skimming it.
3. Nurture and qualify your prospects
Retarget people who consume your content by offering them new resources to increase their interest in your product or service.
With retargeting, you can, for example, retarget readers of your blog or news pages to offer them to download a white paper or a restricted resource.
This lead nurturing strategy allows you to position yourself as a reference in your field thanks to relevant and interesting content.
Each return visit provides a new opportunity to sell and generate revenue.
4. Reduce cart abandonment
Retargeting allows you to retarget potential customers who have abandoned their shopping cart to encourage them to complete their order.
If your visitors have not completed the checkout process but have put items in their shopping cart, they are only one click away from making a purchase.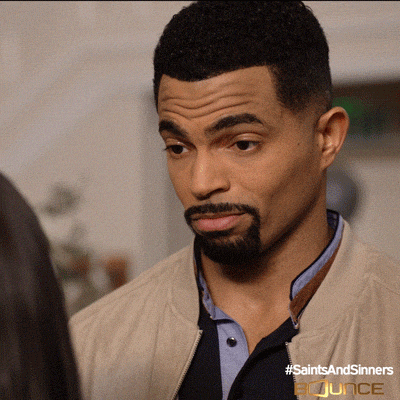 Advertising to these users can increase the chances of turning them into active customers.
5. Encourage re-purchase
Retargeting former customers who have already made a purchase on your site and pushing them to make new purchases is a great way to generate new sales and increase their lifetime value.
By retargeting, it is also possible to implement a cross-selling strategy by offering accessories or additional products to customers who have already placed orders.
The different retargeting
channels
The advertising targeting strategy can be carried out on different retargeting channels. For this, several factors must be taken into account:
your budgets
your objectives (traffic to your site, purchase, notoriety, etc.)
the navigation path of your customers
1. Generic retargeting
Customers receive generic brand advertisements when they browse external websites and applications on the display network.
Generic retargeting is particularly suitable for B2B companies. It is also useful for marketers who want to target a type of audience rather than a specific consumer. Or to promote a specific product or offer.
2. Dynamic retargeting
This method consists of creating personalised ads, specific to each targeted Internet user.
The machine learning allows to analyze behaviors of the user to personalize ads according to his individual preferences and to reach the consumer at the moment he is most likely to buy.
This is a method particularly used in B2C and e-commerce, to show a user the products they have put in their shopping cart without going through with the purchase.
3. Retargeting in display banners
Retargeting in display advertising refers to the banners displayed on many websites and blogs that have decided to monetise advertising inserts. This is the most common channel.
For this type of retargeting, it is necessary to go through advertising agencies such as Adroll, which manage the sites' ads and the advertisers' bids. The most relevant ads are displayed according to the user's profile and cookies.
4. Retargeting on social networks
The main social networks, such as Facebook, Instagram, LinkedIn, Twitter, Snapchat, Youtube allow the display of banners and sponsored publications on their platform and with a network of partners.
You can directly launch a Facebook retargeting campaign and take advantage of the social network that offers the most retargeting possibilities and is the most used today.
The key is to choose the one that is used by your target audience, to the best possible conversion rate.
5. Retargeting by email
Email retargeting only works if your website visitors have consented to give you their email address, in order to comply with the General Data Protection Regulation (GDPR).
Internet users who have given their consent beforehand receive a message directly in their mailbox, to encourage them to return to your website.
Emailing can also be used to push premium content offers (as part of a content marketing strategy) or promotional offers, depending on the type of product or service offered.
6. Retargeting via push notifications (mobile and computer)
Web Push Notification is a message from a website that is displayed directly on the user's computer or mobile phone.
Web Push Notifications are concise messages with a title, a 145 character description, an image, a logo and a CTA with a redirection link.
The messages are displayed "without support" and are visible directly on mobile or computer screen. They can be sent at any time, even if the visitor does not visit your site.
Web push notification subscribers of the site will be able to be contacted directly by the brand, without them necessarily being on the web.
Web Push Notification is ephemeral and disappears after a few seconds, making it an innovative, non-intrusive format that subscribers appreciate.
Web Push Notification is an effective lever to recover a contact point with your site visitors and retarget them in real time.
The end of third-party cookies: Web Push Notification, the
cookieless solution

?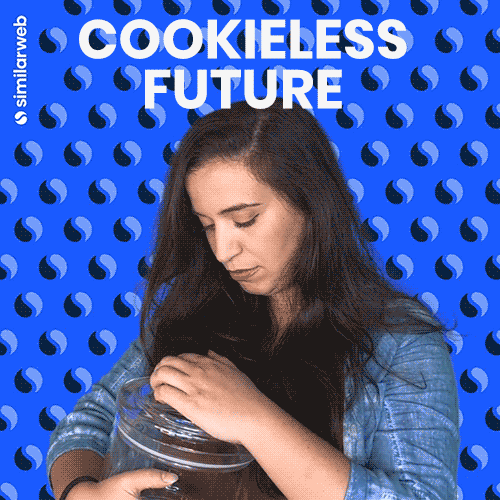 By 2023, it will no longer be possible to collect personal data on the interests and purchasing intentions of Internet users via cookies.
After Firefox, Explorer and Safari, it's time for Chrome to announce the deleting third-party cookies from its browser, which will impact advertisers and Internet users. With as major risks, the reduction of revenues linked to the monetization of sites and a decrease in the effectiveness of Internet advertising.
Thus, in response to this change in direction, the AdTech sector has seen the emergence of new solutions.
Web Push Notification is an solution that respects the GDPR: the Internet user must give beforehand consent to receive notifications via a browser window that recovers this consent as a trusted third party. There is no need to provide any personal information or email address.
This Cookieless solution can turn 15% of a website's visitors into subscribers to the brand.
Go here to learn more about Web Push Notification.
What is a cookie?
A cookie is a small file that is automatically saved by the browser on the computer's hard drive when a user visits a website.
A cookie allows to recognize a user when he/she returns to a website. Cookies have become a pillar of digital advertising since they have been developed to offer a better user experience and to allow websites to remember when a user visits.
Cookies contain personal information about users. Since the implementation of the GDPR and on the recommendations of the CNIL, websites have obligations regarding cookies, in order to preserve the personal data of Internet users.
A visible banner must thus inform users of the purpose of the cookies; the user can then either give their consent, or set a refusal of these cookies.
The difference between proprietary and third-party cookies
The proprietary cookie is issued by the site consulted by the Internet user, on the site's domain. They are used for the proper functioning of the site or to collect personal data for advertising purposes.
The third party cookie is deposited on different domains of the visited site, generally managed by third parties. These cookies mainly allow the third party to track, see which pages have been visited on the site by the user and to collect information about him .
Other benefits of Web Push Notification
The Internet user can deactivate the notifications at any time if he wishes. In the same way as retargeting, a visitor who has come to your site sees your ad on another site. This is a real innovation for digital marketing that allows brands to capture their audience on-site and retarget them on-device.
This format is a brand safety tool since it does not require any broadcasting medium. Not to mention that the solution also passes through the net of ad blocking. This is not insignificant when you know that nearly 45% of Internet users use ad blockers!
Web Push Notification allows you to maintain a link with your subscribers by sharing news, information, messages and announcements after they have registered. It becomes very easy to re-engage users and to make them come back to your site.