To you who works for an advertiser or an agency as Head of Ecommerce, or Digital Marketing Manager, or Traffic Manager, or… Well, you get the idea? So, to you who are on the lookout for new digital trends, the #PushTeam Adrenalead knows that Web Push Notification will not have escaped your sharp eye.
And in case you missed the landing of the Web Push Notification saucer, come here we explain you what it is !
Well, then okay: Web Push is new, it's trendy, it makes you stand out from the competition. You know it.
That's nice, but what do you actually do with Web Push in your strategy? Come on, let's give you some ideas for use!
Use
scheduled

Web Push Notification

The scheduled Web Push Notification is scheduled to be sent at a time T. QED, you see, it's super simple!

More precisely, it's a one-time campaign, sent to all or part of your base on a specific date. Here are a few ideas from our brainstorming sessions:

1. Editorial campaign: here you will push informative content to develop your company's reputation and establish its credibility with your audience.

2. Commercial campaign: you are here in the advertising message par excellence. You want to inform your audience of upcoming commercial offers (e.g. sales, Black Friday, various promotions).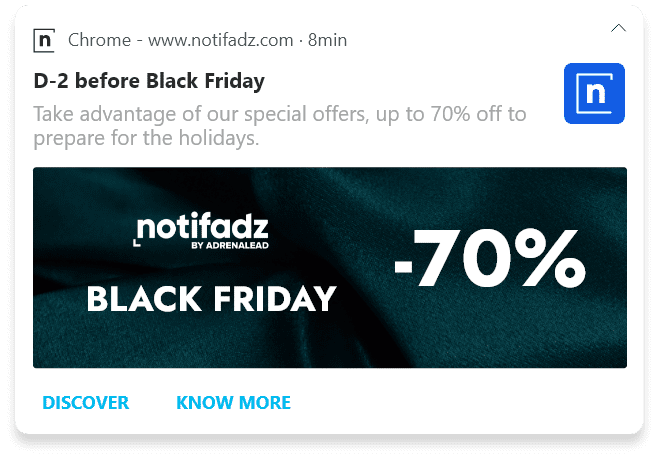 3. Drive-to-store campaign: if you also have a physical point of sale and you want to generate traffic to this store (e.g. your Web Push will include a coupon with a promo code valid only in a physical point of sale).
4. Campaign for a mobile application: your Web Push can propose the download of your application and link to the mobile store. We'll give you an extra idea: you can also include a promotional offer on condition of downloading this application.
5. Qualified Lead Generation Campaign: for example, you may not be selling peas (but poke at our friends in the retail industry who we love ❤), so sometimes a Web Push Notification alone can't do all the conversion work. For purchases with a large budget (e.g. banks, insurance, real estate, cars), you can use your Web Push to refer to a form. The objective is to collect the contact information and needs of the Internet user, and then have them call you back with a consultant.
6. Campaign to unite communities: Depending on your sector of activity, sending information around a universe allows you to animate your subscribers (e.g. maternity, organic, pet).
Use
automated

Web Push Notification

Yes, in other words, use triggers. Because yes, Adrenalead's platform also allows you to automate campaigns according to a user's behavior.

Here are some examples of marketing triggers on the Web Push Notification format:

7. Welcome As you've probably heard 25,000 times in your life, "you only get one chance to make a good first impression".

It's the same with Web Push! In the hour following the user's acceptance to receive your brand's notifications, the brand is still fresh in the user's mind. This is the ideal time to send them a welcome Web Push, offering them to take the first step (e.g. reading an article, referring them to private sales).

8. Rating Customer reviews are the lifeblood of the business. You will be able to send a Web Push to a customer of your brand within a few days of his purchase, so that he has time to try the product and evaluate it.

9. Follow-up on a theme visited or a product consulted in detail: the objective is to encourage the return to the site by highlighting a product seen by the Internet user.

10. Shopping cart abandonment: with a shopping cart abandonment rate of 70% on average, it is almost certain that retargeting these users is one of your priorities. Depending on your sector of activity, you can also think about retargeting users who have not finished filling out a form.

Normally, your mind is racing at 200km/h at this moment: you should already be able to project ideas of how to use Web Push Notification in your sector of activity and your company. So, we leave it to you to create, to find the best strategies so that Internet users literally fall under the spell of your brand.

Well, just in case, we are always available if you want more information about Web Push Notification 😉