Advertisers, CEOs, e-commerce directors, web editors: are you looking to optimize your advertising strategy so you can stay at the forefront of your sector? Well, you might be interested to know that no less than €491 million* was invested in Native Advertising in 2022. That's a 31%* rise! This concept has established itself as a major lever to be integrated into advertising strategies.
It now represents 30%* of the Display segment. And things are just getting started: with the removal of third-party cookies set to occur in 2024, investment in Native is likely to see even more sustained growth.
In this fast-evolving context, Web Push Notifications – an innovative format that goes hand-in-hand with Native Advertising –is primed for success.
Native, Web Push… Take a deep dive into the latest trends that are reshaping the world of digital marketing !
Overview
Native advertising & Web Push: two powerful and multi-faceted tools
Why make the shift toward Web Push and Native Advertising ?
Spotlight on Web Push Notifications
1. Native Advertising & Web Push: two powerful and multi-faceted tools
Web push notifications are short messages sent directly to users who have previously agreed to receive them, even if said users are not currently browsing the website in question. These notifications appear as small pop-up windows on the user's desktop or mobile apps, allowing you to reach users rapidly and generate engagement.
Native Advertising, meanwhile, involves integrating advertising transparently within the editorial content of a website, in such a way as to ensure it blends naturally into the user experience. For example, a native advertisement might take the form of an article or a product recommendation; they are adapted to the environment in which they are deployed, thereby offering a more fluid and less intrusive user experience.
This infographic illustrates how these two marketing strategies work 🙂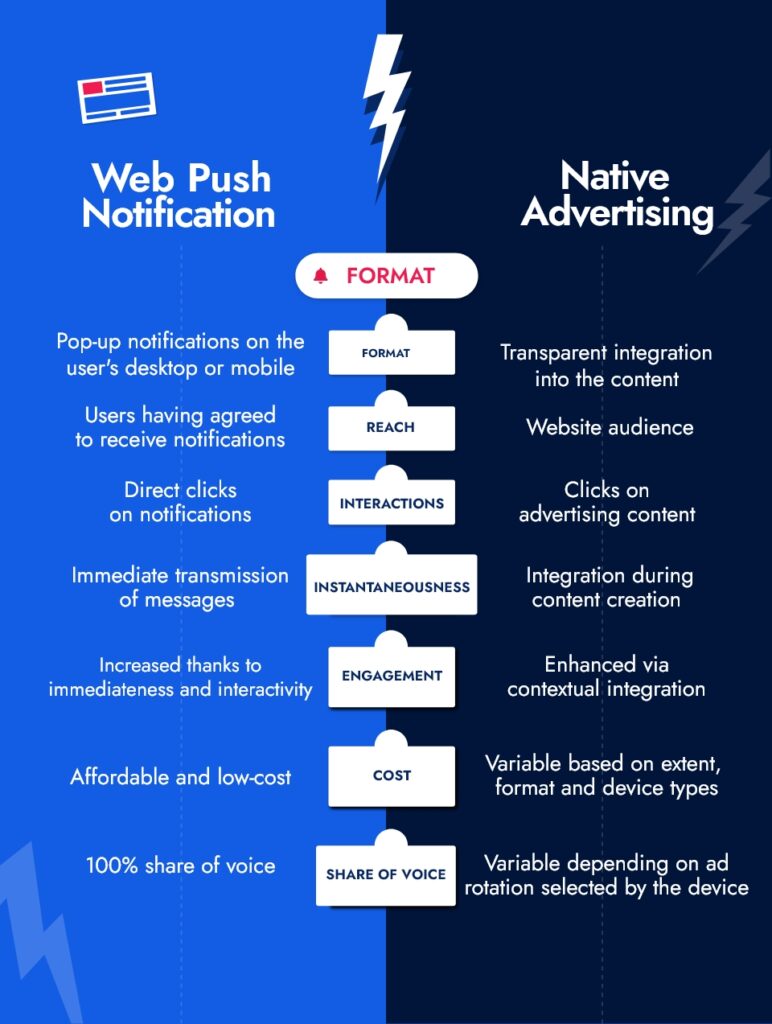 2. Why make the shift toward Web Push and Native Advertising ?
2.1. For a more personalized and engaging advertising experience
Fed up of information overload, web users are seeking a more targeted, more personalized and, above all, more engaging experience. They want to interact with messages that speak to them, and which blend naturally into their browsing activity. Furthermore, advertising pressure on social networks is causing a drop in return on investment (ROI). Many advertisers are therefore turning to the open web in order to diversify their communications channels and optimize their advertising strategies. All of which explains the popularity of Native Advertising and Web Push Notifications.
2.2. An authentic interaction and added value for the user
As such, advertising formats are evolving in order to meet these new expectations. The goal is no longer simply to capture the user's attention, but rather to engage it, to pique their curiosity and to provide them with actual added value.
Advertisers are therefore looking to create a genuine and authentic interaction with the internet user.
2.3. Native Advertising and Web Push Notifications: strategic tools for your business
Deployed in a breadcrumb trail format, these levers meet several objectives :
Building a brand image ;
Generating leads ;
Increasing sales ;
Optimizing customer engagement.
As you'll have realized, these advertising formats are now among the most crucial building blocks in the development of digital marketing strategies.
3.Spotlight on Web Push Notifications
Web Push Notifications, which are issued in real time and directly on-screen just like device system notifications, are putting fresh wind in the sails of native advertising.
3.1. How do Web Push Notifications work ?
When they visit your website, users are presented with an opt-in box offering them the chance to subscribe to your notifications. If they agree, their details are stored on your database and they'll receive your advertising messages via Web Push Notifications !
An attractive, easy-to-deploy solution, Web Push Notifications appear directly on the user's computer or smartphone screen :
On a mobile device, they are displayed on the lock screen or at the top of the home screen when the phone is open, similar to an app notification ;
On a computer, they are displayed in the bottom right corner of the screen, like a system notification.
3.2. Advantages of Web Push Notifications
To counteract the sense of disturbance felt by users when they see ad banners or pop-up windows, Web Push Notifications follow the same mindset as Native Advertising. Advertising messages are presented ("pushed") via formats that resemble computer system notifications or mobile app notifications.
This offers finely tuned targeting based on the internet user's behaviour or geographical location, for example, thereby enabling a personalized advertising experience. What's more, Web Push Notifications can be automated using triggers. This means you can get the right message to the right person at the right time. Everything is brought together in order to enhance user engagement and the effectiveness of advertising campaigns.
3 key points 👍
Contextualization : Native ads and Web Push Notifications are transparently integrated into the user's browsing experience, in order to create a fluid and coherent experience.
Relevance : Personalize your messages based on user preferences and behavior, using available data to present relevant and appealing messages.
Testing and optimization : You can measure the effectiveness of your Web Push Notification and Native Ad campaigns on a regular basis, then make adjustments based on the results obtained.
Now you know how to bring powerful added value to your marketing strategy. Native Advertising and Web Push Notifications are two advertising formats offering a personalized and engaging experience. And given the imminent disappearance of third-party cookies , these formats are establishing themselves as essential strategic levers for advertisers.
So don't get left behind: explore the opportunities offered by Web Push Notifications and put your company at the cutting edge of modern digital marketing!
*Ad-exchange, ("Native Advertising: a reassuring advertising lever in a time of crisis"), article by Stéphanie Silo, published on 1 March 2023