A brand has two main objectives: to retain its customers and to acquire new ones. To do so, it uses different strategies and channels. In both cases, its best weapon (and in some cases its real business) is undoubtedly its database.
But how to use this database for communication purposes? The most used channel to build audience loyalty is email marketing. What are its advantages? How can the Web Push
And go, let's start the Web Push Notification vs email marketing match!
What is email marketing?
Email marketing is a direct marketing channel. It is used both to inform and to build loyalty among your customers / prospects: news promotion, information after an order, suggestion of complementary articles… From information to loyalty, through conversion: email is everywhere!
Three types of campaigns can be identified:
Newsletters (weekly or monthly) to present your news, highlight a new product. Objective: to inspire.
One-off campaigns: they are sent on one (or more) given day(s). They allow to highlight a promotion or a temporary exclusivity. Objective: to sell.
Automated campaigns: they can be transactional, i.e. sent after a purchase (e.g. order confirmation, appointment reminder, shipping confirmation). But they can also be linked to a user's behavior (e.g. visit to your site without purchase) or to the customer relationship (e.g. purchase anniversary).
What is Web Push Notification?
Web Push Notification is a new lever of customer engagement, which allows to recover a point of contact with your website visitors and retarget them in real time, directly on mobile or desktop, without them necessarily being on the web.
How does it work?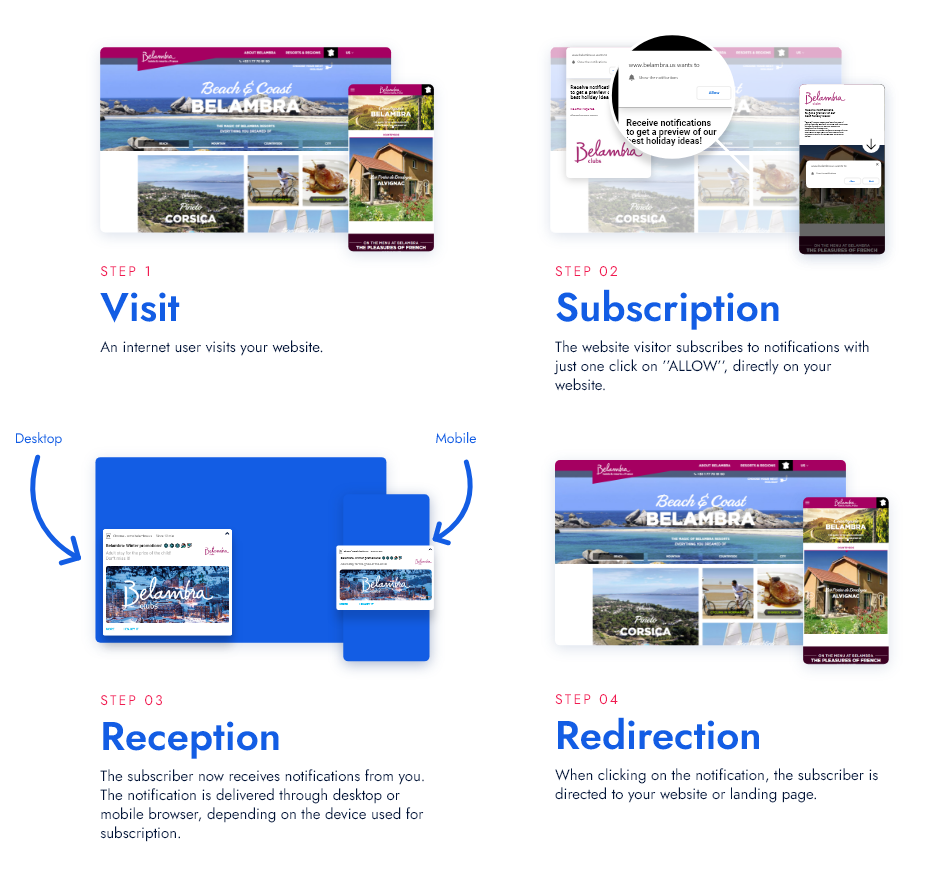 This new solution offers you a new way to interact with your subscribers with shorter messages, instantaneous deliverability and no spam. Thus, this new channel complements email marketing in a customer engagement strategy.
Web Push Notification vs Email: zoom on formats and their performance
To receive emails from you, the user must fill out a form and agree to provide his email. But users are more and more reluctant to this idea. And for good reason!
You too are inundated with emails?
An Internet user receives on average more than 100 professional emails* per day and more than 30 personal emails*. The rate of inbox spam is over 60%**.
With the Web Push Notification format, the Internet user gives his consent in one click on "authorize" in the opt-in box and therefore leaves no personal data!
Not to mention that with mailboxes overrun with daily messages, Web Push Notification is an ideal way to differentiate yourself from other advertisers.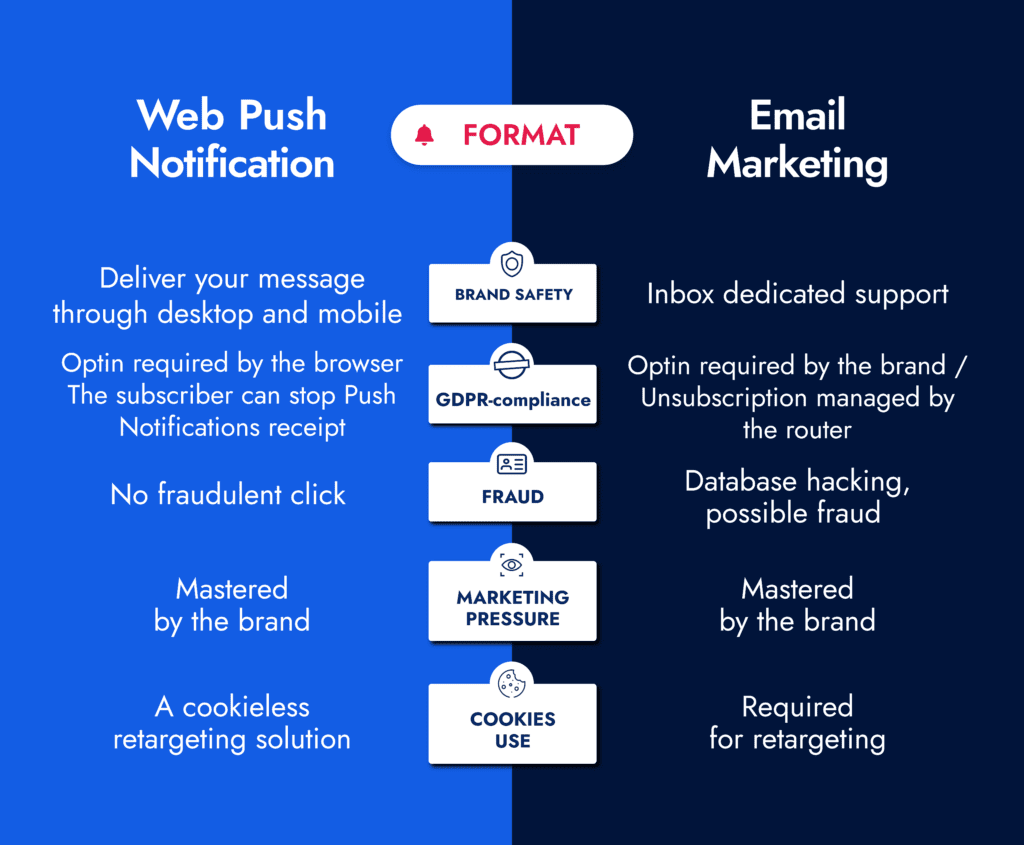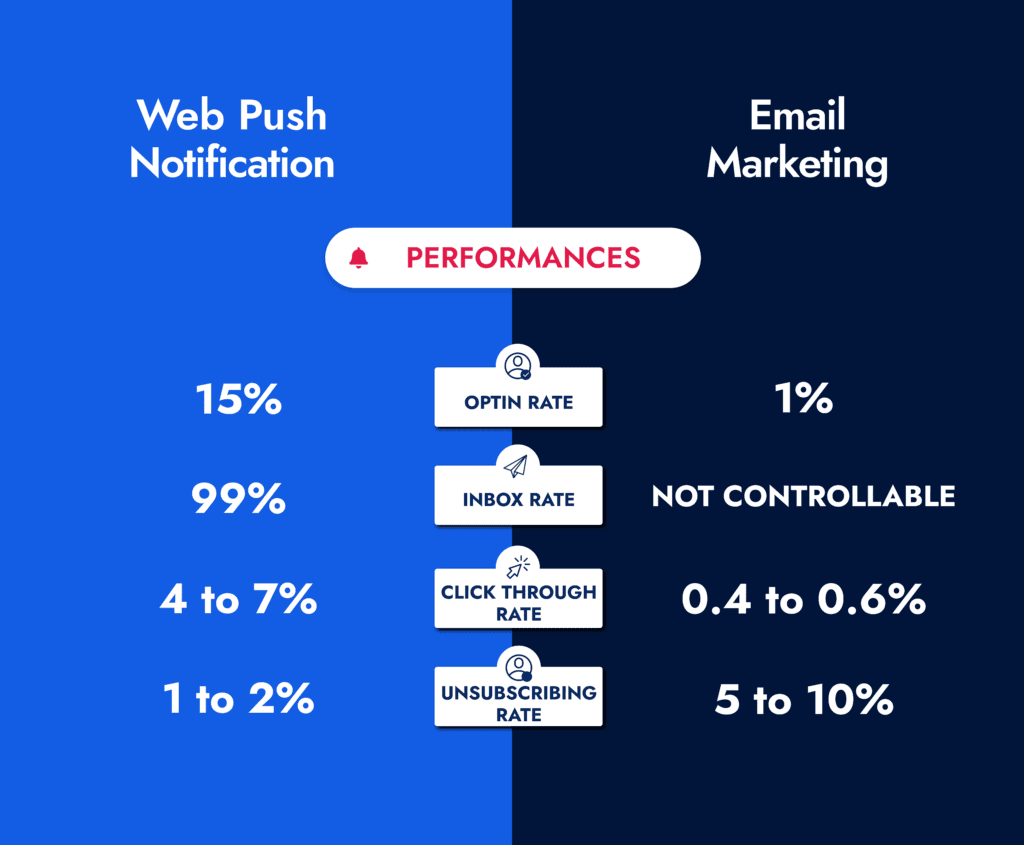 And the ecology in all this?
Web Push Notification vs Email…
Did you know that digital marketing, like paper-based campaigns, also generates pollution? The level of energy consumed by servers, data centers and equipment around the world is exploding!
Because we know that you love our beautiful blue planet as much as the #PushTeam Adrenalead, we have concocted a "green" match between email marketing and Web Push Notification: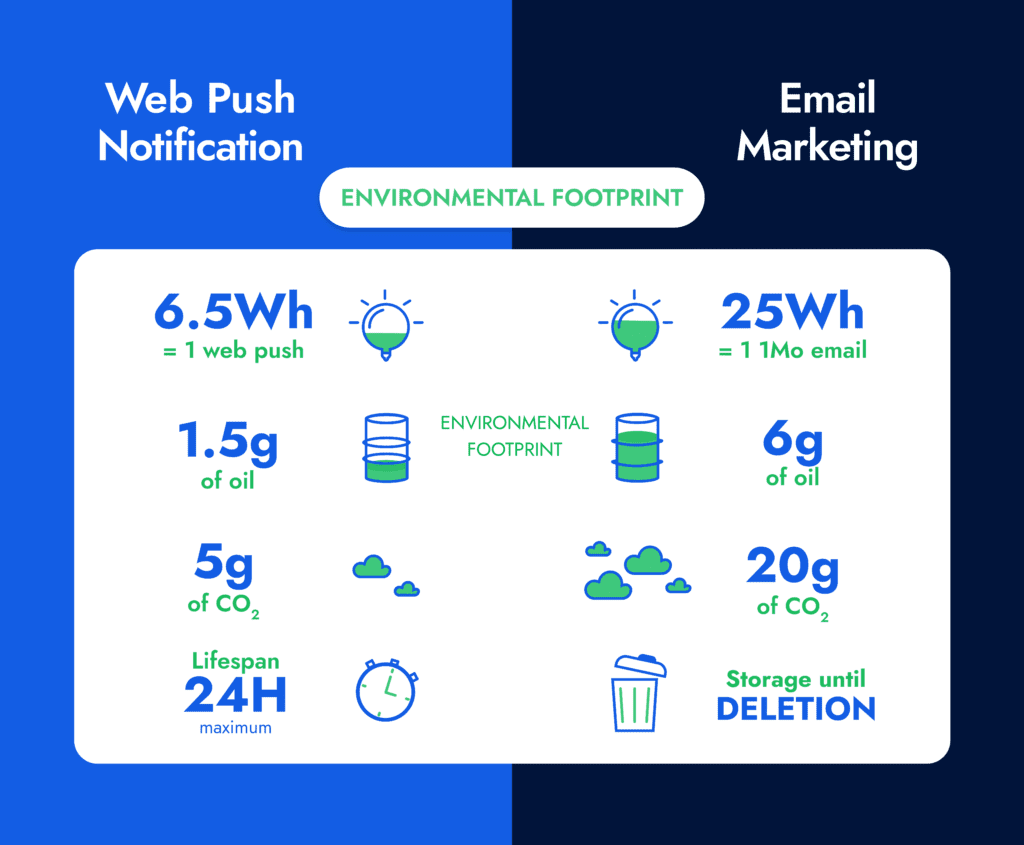 You now have all the weapons in hand to eventually complete your customer engagement strategy!
And, of course, the #PushTeam is ready to tell you more about Web Push Notification.
But pssst… We can't resist giving you some hints: Web Push Notification can also be used in a retargeting or conquest strategy.
Stop, you've been told too much already!
* Source Mondedumail.com, "The Ultimate List of Emailing Statistics in 2022", article dated 11/01/2022
** Source Les Echos, "15 years of spam, phishing, viruses and ransomwares evolution, 06/06/2019