In the era of new technologies and digital tools, generating revenue via a website has become a standard practice. However, audience monetization can become a major headache if you're not employing the right tactics. In this article, we share 5 techniques which have been hand-picked and approved by our top experts.🤩
Advertising market trends and outlook for the next 5 years
The advertising market has seen steady growth in recent years, with a 5% increase in investment between 2022 and 2021. Digital marketing is now the biggest stakeholder, accounting for 51% of advertising investments in 20221. However, this growth does not come without its share of challenges.🤔
The rapid growth of programmatic marketing has brought about significant challenges, notably including:
Advertising fraud;
Concerns regarding brand security for advertisers;
The absence of transparency in ad publication.
Despite these challenges, investments in digital advertising have not decreased, highlighting its growing influence in the advertising landscape.
According to Olivier Baconnet, Director of Media investments at GroupM in France:
"2023will be a transitional year, before we return to dynamic activity in 2024, especially with the Paris Olympics coming up."
Trends taking shape for the next 5 years 👀
Ongoing growth of digital marketing Digital looks set to continue to dominate the global advertising market, and is expected to achieve 60% market share by 20272. This growth is driven by the rise in new advertising formats such as AI, video, audio and augmented reality.🤖
Emergence of new advertising formats: Advertisers are seeking out new advertising formats which are more effective and more respectful of web users' private lives. Video, audio and immersive formats are taking off. New technologies such as augmented and virtual reality could also gain ground in the coming years.
Emphasis on confidentiality: The issue of web user confidentiality has become a major concern, and advertisers must adapt to this new playing field. The end of third-party cookies, which Google has announced will occur in 2024, will require advertisers to adopt new audience targeting and measurement solutions which are more mindful of users' private lives.
The importance of data: Data is the cornerstone of the advertising market, and advertisers must collect and analyze increasingly vast quantities of data in order to target their campaigns effectively. First-party data, which is collected directly from consumers, is becoming more and more valuable to advertisers.
Media convergence: Traditional and digital media are becoming increasingly intertwined, and advertisers will need to opt for omni-channel communications strategies. This media convergence will offer advertisers new opportunities to reach their audiences.
What is audience monetization?
Almost 79% of e-commerce sites use audience monetization. This enables them to draw value from their website, blog or mobile application, while increasing their monthly revenues via various monetization levers.
Audience monetization enables editors of content and media sites to generate revenue via their website's visitors. In other words, this means putting your website traffic to use by transforming it into a potentially substantial and steady source of revenue. Various techniques exist to help sites achieve optimum audience monetization.
Read more about the most promising sales lever for 2023🔥
The leading audience monetization techniques in 2023
Without further ado, here are the top audience monetization techniques selected by our team."
Affiliate marketing
Affiliate marketing involves delivering a marketing campaign that aligns the objectives set by the client, whether they are an agency or an advertiser, and is 100% content-based. It represents 4% of the advertising market in France with +5% growth vs 2021, and is a monetization technique used by many bloggers and websites.
Affiliate marketing is therefore a partnership between two parties:
✅ the affiliate: the blogger whose role is to promote a product or service
✅ the affiliator: the advertiser who employs your promotional services
This commercial partnership is normally a win-win, enabling editors to monetize their audience and brands to sell more products.
How does it work?
The affiliate takes on the task of promoting a product or service through their website via links, banner ads, etc., directing visitors toward the advertiser's online store. This enables the affiliator to increase their sales and boost traffic to their retail site.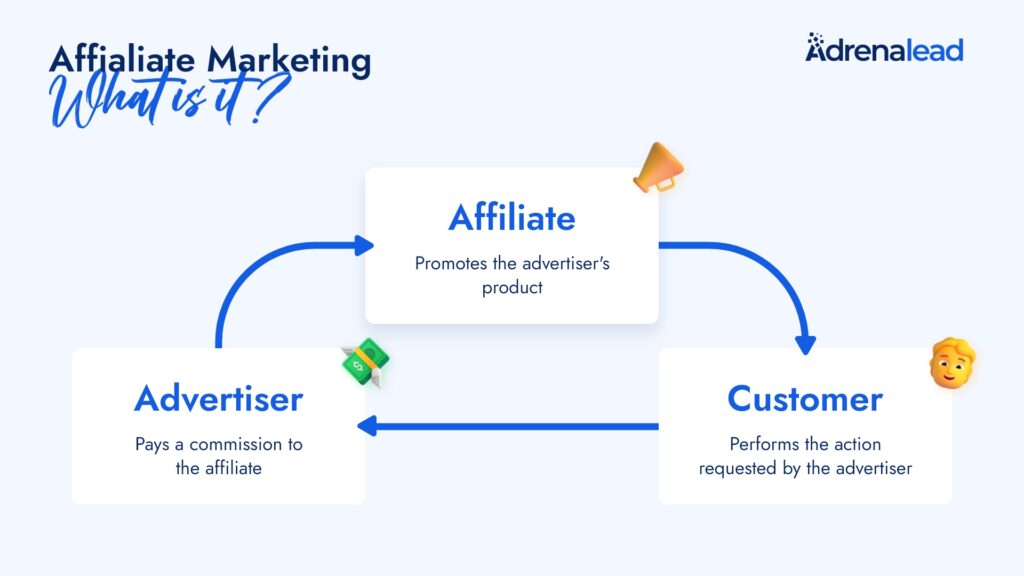 Affiliation can achieve various objectives:
📌Developing the affiliator's influence and reputation
📌Generating qualified traffic for their site
📌Collecting leads
📌Increasing sales
Below are a few examples of affiliation platforms:
For those seeking to monetize their website, affiliation platforms are often the first step. These platforms facilitate collaboration between editors and advertisers, opening the door to new sources of revenue.
Remuneration is based on the performance of the affiliate-led promotion, meaning the affiliate may be compensated in a number of ways:
| Payment method | Description |
| --- | --- |
| CPC/cost per click | you earn money for each person who clicks on a link that brings them to the affiliator's website |
| CPA/cost per action | you earn a fee for each purchase made by a visitor who came from your site |
| CPL/cost per lead | you pay the affiliates for each qualified user or prospect they direct toward your website |
| CPM/cost per mille | means you get paid for every 1000 times the advertising banner is displayed on your site |
| Pay per double click | you pay the affiliate for every two clicks generated. This means that the affiliate receives compensation for a two-step click process |
© Adrenalead
Display advertising via Google AdSense
Display is a format of online advertising space. It is one of the most widely used audience monetization techniques, and one of the most familiar to the public. Display advertising occurs in a number of formats:
MPU/MedRec
Page top banners
Website skins
Interstitial ads
Video ads
Google AdSense works by adapting the advertising displayed based on the content published on the site. The higher your traffic volume, the greater your chance of generating revenues.
For example, on a healthcare services website like Doctissimo the advertising content displayed would be relevant to the site's audience – ads for pharmaceutical products, dietary supplements or medical services, etc.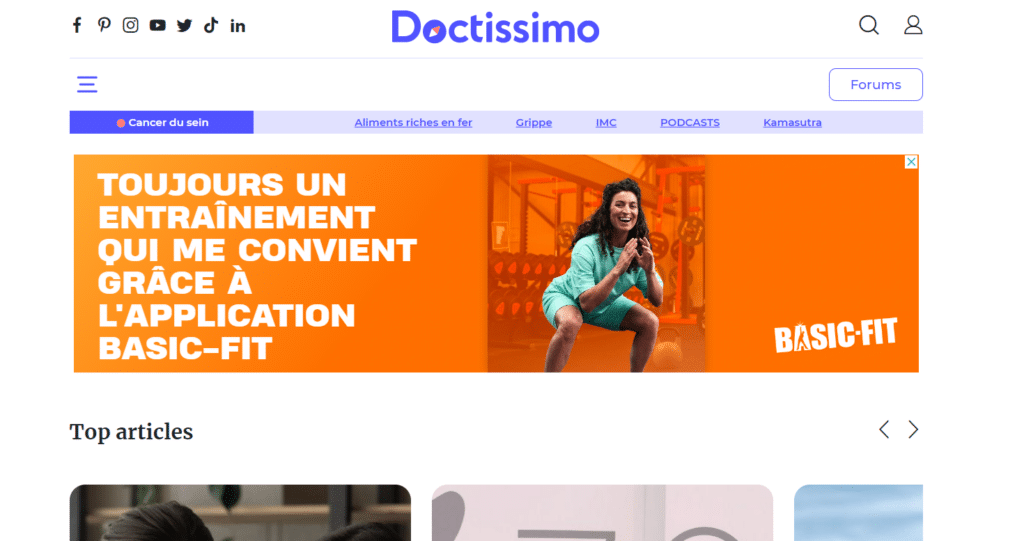 There is no fixed cost for using Google AdSense as an editor, as the revenues depend on your ad's performance and the behaviors of your website users. Revenues vary considerably from one editor to another.
Netlinking
Netlinking is an SEO technique that involves inserting hypertext links known as backlinks into your blog articles, which will direct readers toward other sites.
A powerful strategic asset for site monetization, netlinking helps improve your website's visibility and positioning on search engines.
🎯The objective is to:
boost visibility in order to increase your "popularity"
generate sales and/or improve your SEO based on links.
The importance of netlinking also extends to quality of redirections: the links offered must direct users toward high-quality content. In order to be deemed suitable, these links must be situated on sites where the content shares similar themes, or come from media websites recognized by Google.
Audience Monetization via sponsored articles
This involves an article or publication that you publish on your website on an advertiser's behalf in exchange for remuneration.
Under this arrangement, the articles may be written by you or the advertiser; you can charge more if you're the one composing the content.
The advertiser contacts you via your website and makes an offer based on a topic to be addressed, number of words, price, and integration of backlinks.
Brands take interest in your niche and want to collaborate with you because they know you have influence. Moreover, this is a non-intrusive monetization technique.
It's important to note that audience monetization via sponsored articles must be performed in a transparent and ethical way, by clearly indicating that the content is sponsored. This ensures reader trust, and compliance with advertising regulations.
In summary, advertisers need:
to promote a product, and rely on sites/blogs to gather an audience that matches their target consumer.
to generate traffic toward their websites by building upon the traffic already present on blogs and external sites.
to improve their own websites' SEO performance
Audience monetization via Web Push Notifications
Web Push Notifications are a communications solution enabling you to send instant messages to visitors to a website, whether on a computer or mobile device. These messages may contain text, images or clickable links, offering an effective way to stay connected with your audience even when they're not on your site.
This monetization technique offers a number of advantages for website editors. These notably include:
✅ An increase in advertising revenues: Web Push Notification is a non-intrusive advertising format that enables website editors to generate additional revenues.
✅ Better user relations: in addition to their monetization function, Web Push Notifications enable website editors to remain in contact with their users and offer personalized or promotional editorial content. This helps improve user satisfaction and build audience loyalty.
In summary, Web Push provides:
| For editors 📈 | For web users🧑‍🦰 |
| --- | --- |
| An adblock-free solution: Web Push enables total audience monetization | A choice-first format: users give prior consent to receive Web Push notifications |
| On-screen display: no additional advertising space on the editor's website | A non-intrusive format: users can unsubscribe at any moment |
| Time saving: ads broadcast in real time | GDPR-compliant: the internet user's consent is required |
Notable examples of editors who've successfully adopted Web Push Notifications include:
Marmiton
Marie claire
Cosmopolitan
Autoplus
Conclusion
These monetization techniques, notably affiliate marketing, display with Google AdSense, netlinking, sponsored articles and Web Push Notifications each have their own advantages and can be adapted to your site's specific needs.
Affiliate marketing ‒ provides a close collaboration with advertisers, and performance-based remuneration.
Display via Google AdSense ‒ enables integration of audience-appropriate advertising content.
Netlinking ‒ can be a powerful strategy by improving advertiser visibility and referencing.
Sponsored articles ‒ offer a non-intrusive source of revenues while reinforcing credibility.
Web Push Notifications ‒ opens up new revenue pathways via its instant messages (which the internet user has agreed to receive) and its high conversation rates.
Sources