Web push : an innovative tool for boosting customer acquisition and loyalty
Web Push Notifications

, a format that sits between display and native advertising

Web Push allows you to identify a point of contact with visitors to a website and retarget them in real time, directly via their computer or mobile device, even if they're not necessarily in the act of browsing the web.

A Web Push Notification is a clickable message featuring an image, a title, a personalized message, a logo and a CTA.
Mobile
The notification displays directly on the lockscreen, or on top of the home screen while the phone is turned on.
Desktop
The notification displays directly on the bottom right corner of your screen.
Satisfied customers
Collecting subscribers and roll-out of marketing operations
Customer acquisition campaigns
Audience monetization and editorial content promotion
A powerful marketing lever
How Web Push Notifications
work
In order to receive Web Push Notifications from a website, the web user must have given his prior consent to a brand or to a partner publisher, via a navigation window that seeks out its consent as a trusted third party. The average opt-in rate observed is 15%*, i.e. 15 times higher than newsletter subscription rate! The format does not require any collection of the web user's personal data, and he can switch off the notifications at any time. When a notification is sent, it includes a link, which redirects the user towards either the brand website or a landing page.
This unique functioning method reconciles the three-way relationship between advertisers, publishers and web users.
ADVERTISERS
1. Subscribers collection on the advertiser's website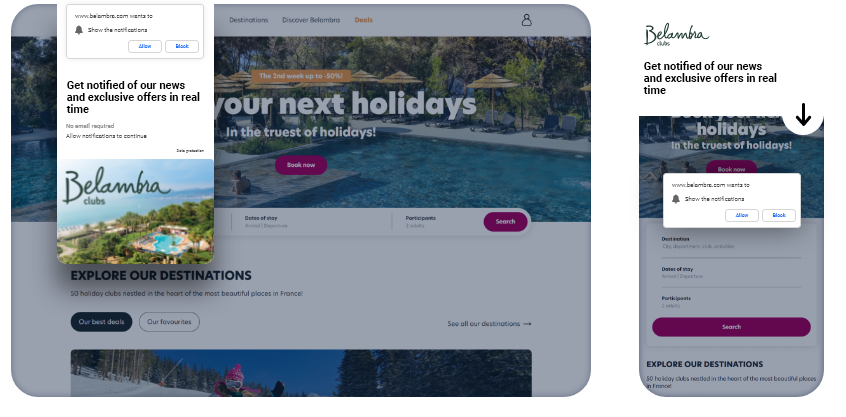 2. Reception of Web Push Notification sent from the advertiser's domain name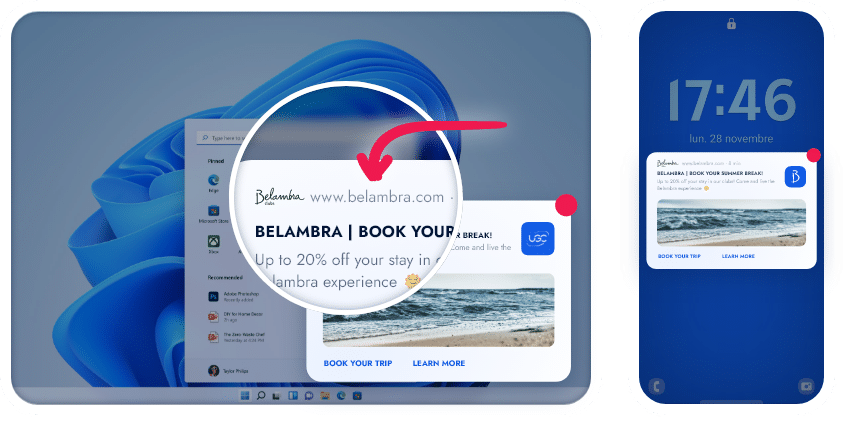 PUBLISHERS
1. Subscribers collection on the publisher's website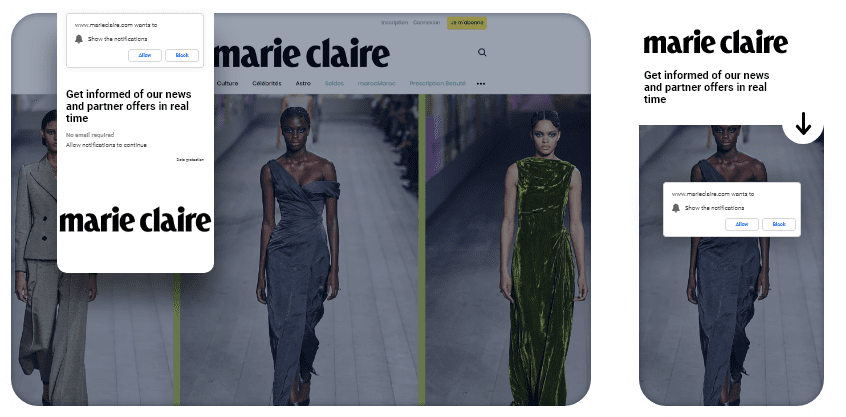 2. Reception of Web Push Notification sent from the publisher's domain name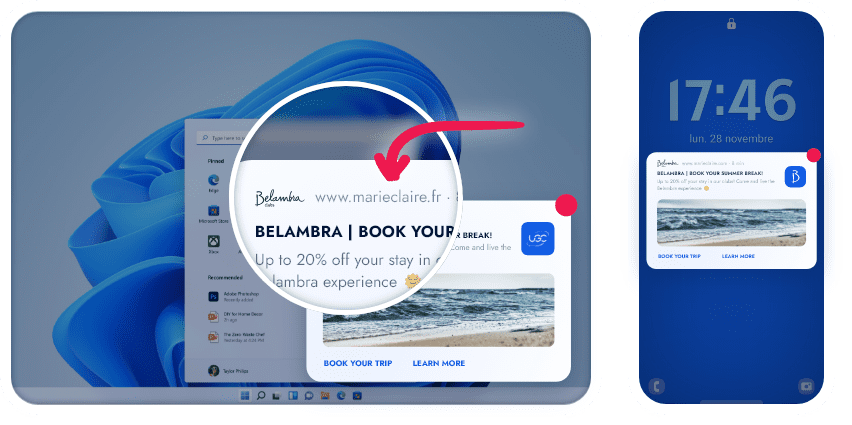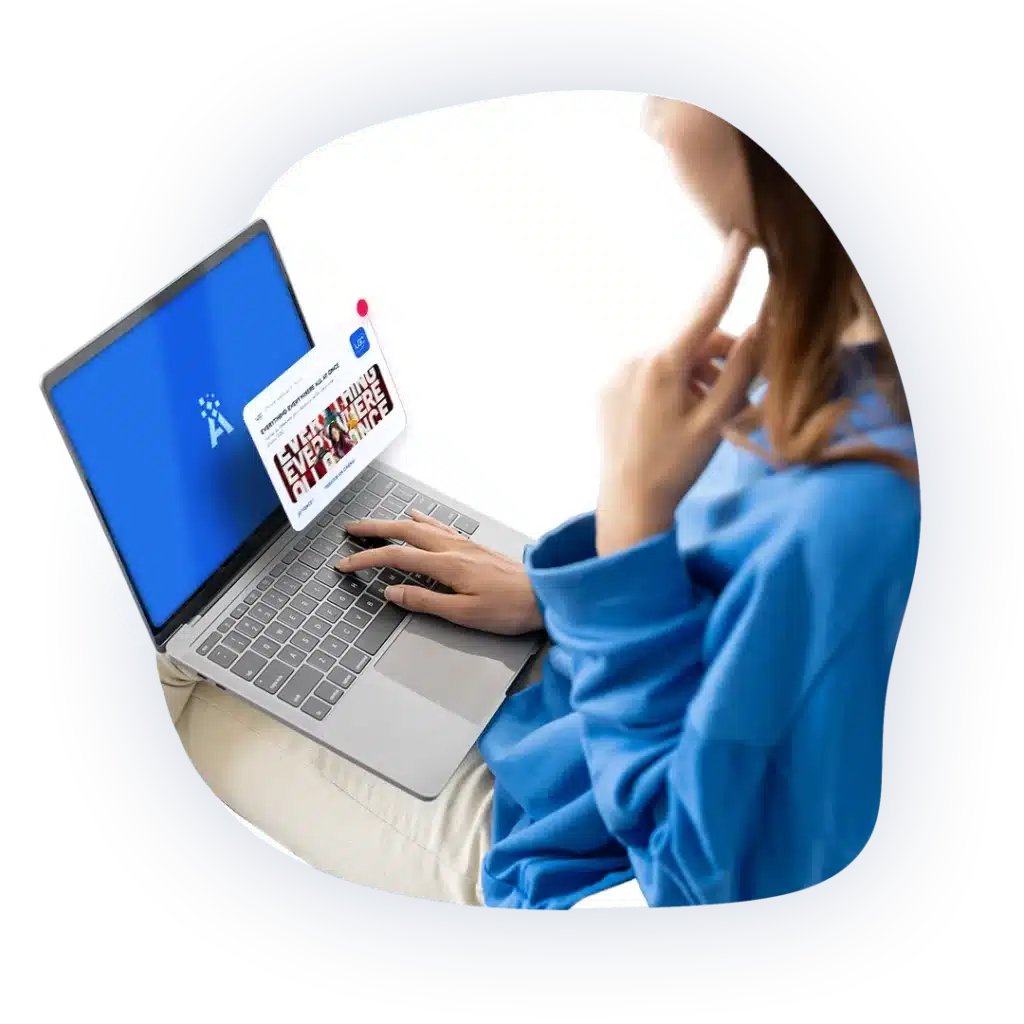 Messaging adapted to your needs
Web Push: a communications channel that can be adapted to fit your
editorial and marketing strategy
This lever is the ideal method for communicating with your audience in a non-intrusive and personalized way.
It enables you to maintain contact with your subscribers by sharing your branding, promotional, editorial and special event content. This makes it super easy to connect with your new community, to re-engage users and to get them to come back to your site on a regular basis to finally turn them into customers!

6 key facts
What you need
to know
1. 15% optin rate
With a 15% average opt-in rate, Web Push Notifications enable a brand to capitalize upon its audience and communicate with subscribers later on, directly on-device.
2. Cookieless
Our retargeting solution is cookieless! A solution that is more relevant than ever, as third-party cookies are on the way out.
3. 100% GDPR Ready
100% GDPR-ready, this is a solution that respects web users' privacy, as it requires their prior consent in order to function.
4. Not affected by Adblockers
Web Push Notifications are not affected by adblockers. This makes it possible to communicate or monetize visitors who were previously inaccessible via programmatic advertising.
5. Brand Safety
It's a lever that preserves the brand's image, and gives it back full control over the intensity of its remarketing campaigns.
6. 3 types of targets
You can reach three types of targets using Adrenalead's solutions: visitors to your site who've subscribed to your notifications, those who are not yet subscribers, and finally web users who haven't visited your site yet.
* Average data observed among Adrenalead customers