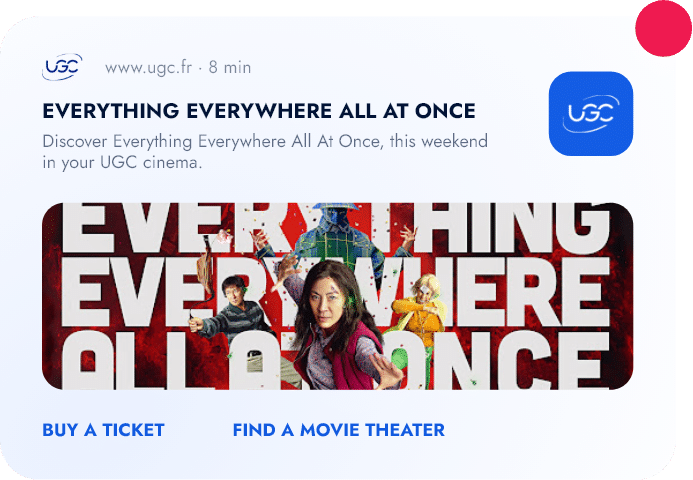 UGC
The leading player in the European cinema industry
Read the testimonial of Isabel Esteves de Carvalho, Relationship Marketing Manager at Cinémas
UGC
"The platform is very easy to use and this is essential today, for reasons of practicality and time saving. It is very user-friendly, it is possible to set up a campaign in just a few minutes! The advice I would give is not to hesitate to use this type of channel because it completes a global marketing strategy in terms of acquisition, loyalty and win-back."

History

of UGC

The UGC Group is one of the main players in the cinema industry with 50 cinemas and 521 screens in France, including the UGC Ciné Cité Les Halles in Paris, the world's leading cinema in terms of attendance (source: Comscore), and 7 cinemas (74 screens) in Belgium.

At the same time, UGC is a major player in film and audiovisual creation. Like the films shown in its cinemas, UGC produces and/or distributes a wide variety of films, ranging from successful popular comedies such as the saga Qu'est-ce qu'on a fait au Bon Dieu? or the Ducobu series, to major auteur films such as Leos Carax's Annette, Todd Haynes' Carol, Jean-Marc Vallée's Dallas Buyers Club, Bruno Podalydès' Adieu Berthe, l'enterrement de mémé, Les Deux Alfred, Jacques Audiard's Un Prophète, Dheepan, De rouille et d'os or Florian Zeller's The Father.

The series production activity, launched in recent years, includes five structures in France and one in the United Kingdom. It produces series for all broadcasters on the market, including TF1: Prométhée and HPI, France 2: J'ai menti, Netflix: Christmas Flow, La Révolution, Disney+: Oussekine, and Amazon: Ten Percent, the English remake of Dix pour cent. In 2022, the UGC group will be the 4th largest fiction producer in France in terms of number of hours broadcast.

Isabel Esteves de Carvalho, Relationship Marketing Manager at UGC, reveals her experience with Adrenalead's Web Push Notification, integrated among their new levers in 2022.
For which purposes do you use Adrenalead's
Web Push Notification?
One of our biggest challenges today is to find a way to recontact customers who visit our site and leave without leaving a contact – customers who are ultimately anonymous.
We were looking for a new lever that would allow us to recontact those customers who did not log in or did not have an account. We discovered Web Push Notification at that time: an innovative format that was unknown to us and which now meets our various objectives such as engaging customers, building loyalty and acquiring new ones.
What do you like about the
solution?
The platform is very easy to use and this is essential today, for reasons of practicality and time saving. It is very user-friendly, it is possible to set up a campaign in just a few minutes!
Adrenalead's marketing team is very responsive in setting up campaigns, but also in training the tool and supporting our team.
What we like about Web Push Notification is its innovative format, which above all allows us to recontact the Internet users who visit our site. But the audience extension is also a great lever, which allows us to win new customers.
In terms of
performance

, does the proposed solution meet your expectations?

The first figures are very interesting, especially on the number of opt-ins, open rates, read and click rates; the results are impressive!

For example, every Wednesday we send a planned campaign via Web Push Notification, with the news of the week. This content is also sent to our email base; in terms of opening rates, the Web Push has an average performance multiplied by 2 compared to email.
How would you describe the
contact

with the different team members of Adrenalead?

Adrenalead's team members are very available, very responsive and attentive; they take time in their explanations to make everything clear and easy to understand. We have a real support and a good follow-up.
Would you
recommend

Adrenalead's solutions to other customers?

Yes, I recommend using Adrenalead's solutions, because first of all it is an innovative solution.

The advice I would give is not to hesitate to use this type of channel because it completes a global marketing strategy in terms of acquisition, loyalty and win-back.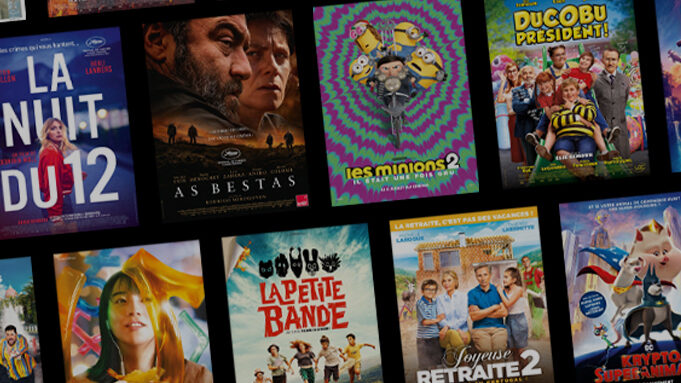 One word to sum up the
collaboration

UGC X Adrenalead?

User-friendly. Both in terms of human relationships and platform.
Want to find out more?
Discover our use cases